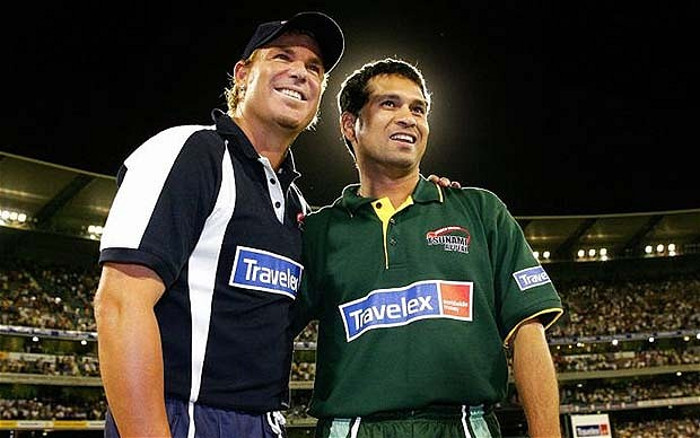 Cricket legends Sachin Tendulkar and Shane Warne are set to get the ball rolling after the International Cricket Council (ICC) gave a go-ahead to their much-hyped Twenty20 (T20) league. The ICC held a series of meetings with Tendulkar and Warne before approving the three-match T20 series.
"It is a one-off event in November and the ICC doesn't have a problem with that. It has spelt out a few conditions to Tendulkar and Warne and they have agreed to abide by them," a source close to the development told TOI.
A total of 28 players including Rahul Dravid, Glenn McGrath, Jacques Kallis, Adam Gilchrist, Sourav Ganguly, Brian Lara, VVS Laxman and Wasim Akram have signed up for the league so far.
The games will be played on drop-in pitches at three baseball stadiums - Wrigley Field (Chicago), Yankee Stadium (New York) and Dodger Stadium (Los Angeles).
The idea of a league comprised of former international cricketers came to the mind of Tendulkar after he played the Lord's bicentenary game in London on 5 July 2014. The master blaster shared his thoughts with the Australian spin legend and the duo started working to make the tournament a success.
The project is thoroughly based on the idea of showcasing true legends in action in cricket's shortest format. The emphasis has been laid solemnly on including real cricket legends that fans will come out to watch.
List of players who've been approached and signed for the T20 league
India:
The Indian cricket legends Sachin Tendulkar, Sourav Ganguly, Anil Kumble, Rahul Dravid and VVS Laxman have all been signed for the tournament.
Australia:
The former bigwigs of Australian cricket Glenn McGrath, Matthew Hayden, Ricky Ponting, Adam Gilchrist, Shane Warne and Brett Lee will all be seen playing in the tournament.
England:
A total of two former England cricketers Andrew Flintoff and Michael Vaughn have been signed so far for the tournament.
Pakistan:
Former Pakistani greats Wasim Akram, Shoaib Akhtar and Waqar Younis have been approached for the tournament. But, apart from Akram, the two seamers are yet to sign for the highly-anticipated league. All-rounder Shahid Afridi has also been approached but he has to retire from all formats of cricket to play in the league.
West Indies:
Legendary Windies batsman Brian Lara has been signed for the tournament.
South Africa:
The South African trio of Jacques Kallis, Allan Donald and Lance Klusener will also be seen plying their trades in the T20 tournament.
Sri Lanka:
Former Lankan cricketer Mahela Jayawardene and spin maestro Muttiah Muralitharan have been signed for tournament while Kumar Sangakkara, who recently retired from all formats of cricket, has also been approached.