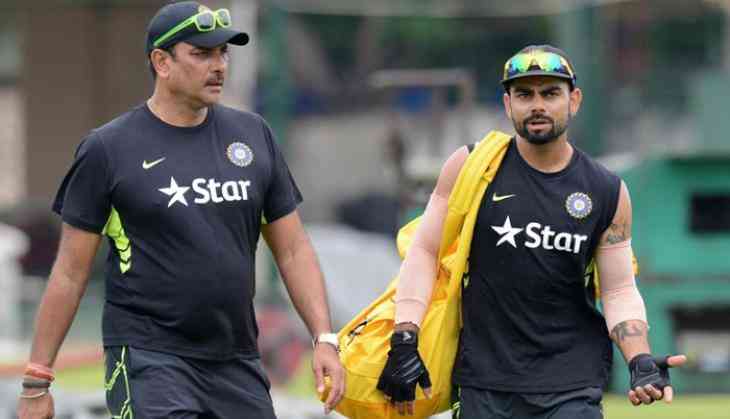 On the appointment of former Indian all-rounder and team director Ravi Shastri as the team India's new head coach for men's cricket team, People took to micro blogging sites and posted memes on the new selection by Board of Control for Cricket in India (BCCI).
The 55-year-old was among ten applicants who applied for the position earlier this month.
He was interviewed by the Cricket Advisory Committee (CAC), comprising of former cricketers Sourav Ganguly, Sachin Tendulkar and V V S Laxman, on Monday after being included in the shortlist of six names.
Besides Shastri, Virendra Sehwag, Lalchand Rajput, Richard Pybus, Ravi Shastri and Tom Moody were interviewed by the CAC.
Here are the reactions of people who errupted in laughter:
#RaviShastri ne kia #Sehwag ko stump!! @RaviShastriOfc ji bane #TeamIndia k #coach.
Kya ab @virendersehwag ji k vishesh tippani ayegi😂 #BCCI

— Nitin (@nkkl1992) July 11, 2017
Team India Gets It's Manmohan Singh. Ravi Shastri Appointed As New Team India Head Coach.

Boys Played Well To Keep Legend Anil Kumble Out. pic.twitter.com/FXQGy9MFYo

— Sir Ravindra Jadeja (@SirJadeja) July 11, 2017
Ravi Shastri appointed India head coach till 2019 World Cup and Anil Kumble to be the head photographer.

— Godman Chikna (@Madan_Chikna) July 11, 2017
Bat pad tells me Ravi Shastri has been nominated as Indian Coach... news to follow

— Dean Jones (@ProfDeano) July 11, 2017
Good that Ravi Shastri is the team India coach..at least now we are safe from his commentary !! :-D #RaviShastri

— Debargha Ambuly (@ambuly) July 11, 2017
Ravi Shastri appointed next coach of Team India. pic.twitter.com/wXCWxvb6zH

— Ashu Dwivedi 😎🚩 (@No1kaChamcha) July 11, 2017
Daddy hired to baby sit brat. https://t.co/QqyrGiyUoN

— Harini Calamur (@calamur) July 11, 2017
Ravi Shastri named as Coach of Indian Team till 2019 WC.

Not only a great batsmen but Kohli can be brilliant politician too.#RaviShastri

— Purn Prakash (@iampurnp) July 11, 2017
Kudos to team Amul. They have nailed it completely. Hope Ravi Shastri doesn't prove to be another Greg Chappell for Team India. pic.twitter.com/EJeDzcIEVb

— Vivek Sharma (@TheVivekSharma) July 11, 2017
TEAM INDIA NEW HEAD COACH?
Obviously ...

"Ravi Shastri"
(Kohli always finishes the match in style.)

— आवारा CHEAPdii 👣 (@Krati_T08) July 11, 2017
सहवाग को कोच न बनाये जाने का प्रमुख कारण ये है कि वो कोचिंग के दौरान भी ट्वीट करते रहते.#RaviShastri #TeamIndia

— amiteshkumargaurav (@amiteshkumargau) July 11, 2017
So Duryodhan Kohli finally got back his Shakuni mama #Ravi Shastri. Now it's the end of Dhoni,Yuvraj and Indian cricket.

— Salil Kamra (@salil_1407) July 11, 2017
Moody: I will do my best to serve team India.
Ravi Shastri: I will do my best to serve Virat Kohli.
*Shastri Hired*

— NatSamrat (@natsamraat) July 11, 2017