Rohan Raj
| Updated on: 13 February 2017, 3:26 IST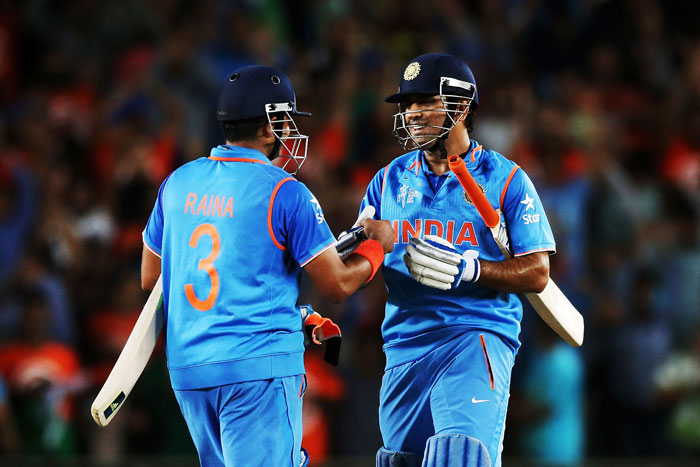 Ever since Suresh Raina made his international debut in One-Day Internationals (ODIs) for India in 2005, the left-hander has been known for sharing a good rapport with Indian captain MS Dhoni - both on and off the field.
Whether it's about Raina poor form or questions surrounding Dhoni's captaincy, the duo has not hesitated from defending each other publicly. Raina was also the first cricketer to follow in the footsteps of his ODI skipper when he joined Rhiti Sports - a sports management firm run by Dhoni's close friend Arun Pandey.
However, the mutual interests that were once shared by the two, seems to have disappeared in the recent testing times following the suspension of their team Chennai Super Kings from the IPL. And, Raina has decided to move on.
The Indian middle-order batsman has left Rhiti Sports in favour of IOS Sports & Entertainment firm on a three-year deal worth Rs 35 crore. Raina has become the first cricketer to be managed IOS Sports who previously managed only non-cricket sports persons, such as boxers Mary Kom and Vijender Singh, wrestlers Sushil Kumar and Yogeshwar Dutt, shooters Gagan Narang and Heena Sidhu and archer Deepika Kumari.
What is Rhiti Sports
Rhiti Sports Management Private Limited was founded in 2007 by enterprising Arun Pandey - also a close friend of MS Dhoni. The premier sports and special events marketing company operates across various sports verticals.
The firm forayed into the world of sports marketing and celebrity management with some of the prominent names in Indian cricket including MS Dhoni, Ravindra Jadeja, Bhuvneshwar Kumar, Pragyan Ojha, Mohit Sharma and Karn Sharma.
Apart from India's star cricketers, Rhiti Sports also manages the famous South African cricketer Faf du Plessis and the high-profile Australian swimmer Stephanie Rice.
Why did Suresh Raina leave Rhiti Sports
Suresh Raina, who was one of the first cricketers to follow in the footsteps of MS Dhoni at Rhiti Sports, didn't hesitate to reveal that his reason behind leaving the firm was in lieu to the lack of attention he received there.
The UP cricketer said he wanted more focused attention on both his cricketing career as well as his commercial deals. Raina currently has only one endorsement contract, with Adidas for three years. His deals with brands such as Pepsi, Boost and an UP-based real estate company have all ended.
While Raina ran out of endorsement deals, his fellow teammate Dhoni is currently endorsing nearly 20 brands worth $20 million according to the Forbes in 2014. Dhoni was recently placed ninth in the list of 20 most marketable athletes in the world according to a study conducted by London School of Marketing.
Raina's statement, "I won't be the No. 2 in this new company" only reveals how unhappy he was at Rhiti Sports and also justifies his decision to leave the firm.
What's in store for Suresh Raina at IOS Sports
Neerav Tomar, managing director and chief executive of IOS Sports, revealed that Raina had been under-marketed so far. "We want to position him as a reliable brand. He has been one of the top five Indian cricketers for some time now. We have already started working with some brands on Raina," he said.
Tomar also stressed on the need to enhance Raina's brand imagery and said, "He has been a little shy of media all these years so a bit of image management will be required."
The IOS Sports are targeting Rs 35 crore for Raina in the next three years which will be generated from a mix of endorsements, licensing, merchandising and also setting up academies. "A lot of this target will be based on his on-field performance and his getting leadership positions in the future, including in the IPL," Tomar said.
Is Dhoni's long-trusted deputy finally giving up on him?
Suresh Raina's move away from the Rhiti Sports, owned by MS Dhoni's close friend Arun Pandey, only highlights the troubles of India's ODI captain who is in his final phase of his career.
Dhoni, who also holds significant share in Rhiti Sports, has been the eye candy for the sports management firm for quite some time now. It apparently led to the other cricketers, including Raina, playing the second fiddle while Dhoni hogged the limelight.
The recent situation at Rhiti Sports seems to have triggered Raina's move away from the firm while Dhoni continues to be dominant with his lucrative endorsement deals.
On the other hand, Dhoni's international career has also come under immense criticism. The right-hander, who retired from Test cricket in 2014, has been far from his prolific best in the shorter versions of the game while his captaincy has also drawn flak lately. Also, Chennai Super Kings' suspension following the 2013 IPL spot-fixing case has also diminished Dhoni's chances of featuring in India's cash-rich league.
It seems like Raina, who has been a regular and crucial part of the Indian middle-order for quite some time now, has also realised the same which makes his move furthermore practical and purely business.