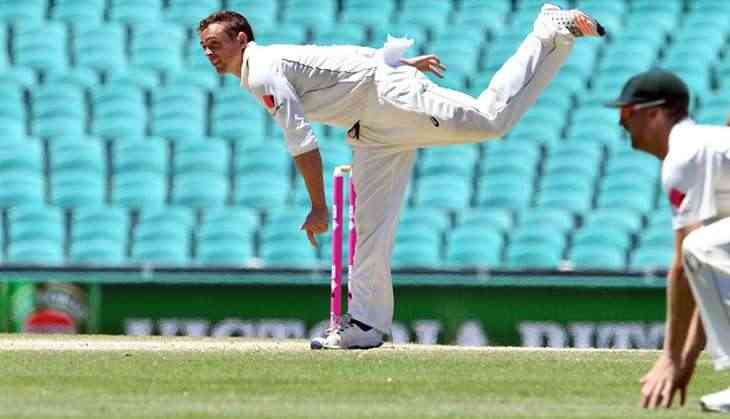 Australian spinner Stephen O'Keefe has been fined 20,000 dollars and banned from next season's Matador BBQ's One-Day Cup after making "highly inappropriate comments" while drunk during a cricket award ceremony held last week.
The incident took place after the official ceremonies concluded at the Steve Waugh Medal, the Cricket NSW end-of-season function.
Confirming the news, Cricket Australia (CA) said that O'Keefe had been penalised for a level two Code of Conduct offence following the remarks he made under the influence of alcohol.
The CA further said that the 32-year-old would now also be required to undergo counselling, cricket.com.au reported.
"There is no time or place for unacceptable behaviour from any of our players in Australian Cricket, and we continue to take a zero-tolerance approach to this," CA head of team performance Pat Howard said.
"We're extremely disappointed this situation occurred, particularly on the back of a previous incident, and it now overshadows Stephen's on field performance on the recent tour of India," he added.
O'Keefe had accepted the sanction as well as the ban from next year's domestic 50-over tournament and, therefore, there would be no further hearing.
While accepting his wrongdoings, the spinner expressed remorse for his actions.
"At an official Cricket NSW function I became intoxicated and made highly inappropriate comments. There is no excuse for this and I take full responsibility and offer an unconditional apology," O'Keefe said.
"I accept the sanctions imposed by Cricket Australia and Cricket NSW and welcome the chance to receive specialist counselling.I have a big challenge ahead and I am determined to meet it with actions, not just words," he added.
It is for the second time that O'Keefe has been landed in an alcohol-fuelled trouble, after being fined 10,000 dollars and undergoing mandatory counselling for allegedly abusing police, security and management at Manly's Steyne Hotel in August last year.
O'keefe, who made his international debut in 2014, has appeared in a total of eight Tests, bagging 33 wickets at an average of 27.30.
--ANI