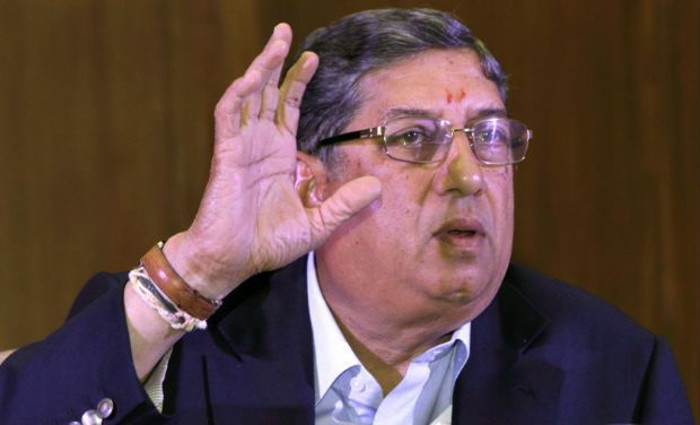 Former BCCI chief N Srinivasan is likely to attend the Indian cricket board's working committee meeting to be held on 28 August. The media reports suggest that the ICC chairman flew in to Kolkata to be a part of the BCCI meeting as a representative of Tamil Nadu Cricket Association (TNCA).
The BCCI's working committee members will meet to discuss the future for Chennai Super Kings and Rajasthan Royals who have been slapped with a two-year ban from the Indian Premier League (IPL). It is also the board's first working committee meeting since the Lodha Committee's verdict in the wake of spot-fixing scandal that broke in 2013.
According to a report in NDTV, Srinivasan will try to gain entry in the working committee meeting which will he held in a five-star hotel in Kolkata. The report suggests that he was also defiant and wanted to remain the president of TNCA which gives him the right to attend the meet.
On the other hand, BCCI is believed to be opposed to the idea of having Srinivasan present during the meeting which will begin from 4 in the evening. The apex court had taken strong objection after Srinivasan presided over the BCCI working committee meeting in February.
Other key points on the agenda for the meeting will be NCA committee recommendations on whether to keep the apex academy in Bangalore, discuss affiliation status of Chattisgarh, Bihar and Manipur, technical committee recommendation among others.
Deliberation on finance committee recommendations on gradation of women's players contract, proposal on how to divide performance based incentives among cricketers will also be on the agenda.
Appointment of India's next coach may not be on the agenda but the working committee may ask the Cricket Advisory Committee, comprising Sachin Tendulkar, Sourav Ganguly and VVS Laxman to finalise the name.