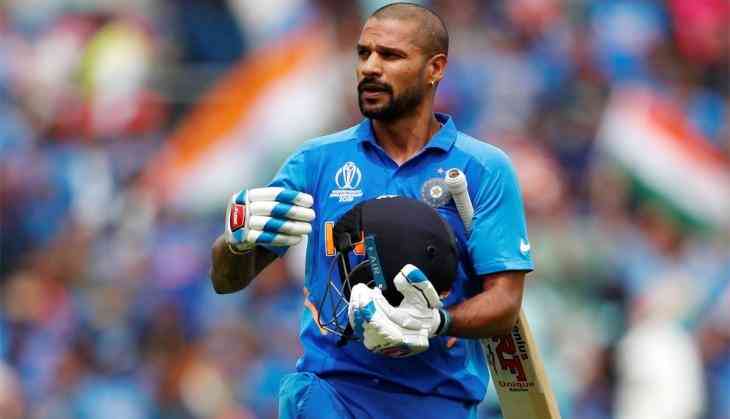 This is surely a big shock to team India's mission world cup and after making a century against Australia, Shikhar Dhawan has ruled out of World Cup 2019. He will be on rest for next three weeks but the injured thumb is fractured and that's why it looks like that his comeback in the World Cup is tough. The question that has raised now which player will take Shikhar Dhawan's place in the team.
Question is that who will open with Rohit Sharma for team India's batting or either the number four place is once again on thinktank. Let us tell you that as soon Shikhar Dhawan ruled out of world cup, if you look at the combination of the team then KL Rahul is the only option India has for the opening position.
In that case, Dinesh Karthik, Vijay Shankar and Kedar Jadhav can be seen on the fourth place. Currently, Kedar Jadhav is playing on the sixth position of Mahendra Singh Dhoni. Vijay Shankar is totally new to the World Cup experience so in that case, it is difficult for him to be a part of the playing XI. Now there are three players who can join team India for the World Cup squad.
At #4 in our #DCTop5 knocks for the season ⬇️
Shreyas Iyer's classy 67 against #RCB! 🔥

Raise your hands if you remember the special knock 🙋‍♂ #ThisIsNewDelhi #DelhiCapitals pic.twitter.com/cep2IXaDCa

— Delhi Capitals (@DelhiCapitals) June 6, 2019
Shreyas Iyer - Shreyas Iyer has been in good form in first-class matches and his performance IPL was also good. He can also be a good option to open for team India.
Donning the blue for the nation is a feeling nothing else can even come close to 🙏🏻 Wishing Team India a killer run to the 🏆 Bring it home boys !! Good luck 💪🏻 🇮🇳 @BCCI #JaiHind pic.twitter.com/oN2gbrn4BP

— Rishabh Pant (@RishabPant777) May 28, 2019
Rishabh Pant - The fans and cricket experts were surprised after Rishabh Pant was not considered for the world cup squad. Now, this is now a big opportunity for the cricketer to enter the world cup squad.
What an awesome comeback by csk.... enjoyed every bit of my time in yellow.. best team ever... @ChennaiIPL pic.twitter.com/e1unoplk3j

— Ambati Rayudu (@RayuduAmbati) May 29, 2018
Ambati Rayudu - Ambati Rayudu has also performed amazingly in the last few games and he even made century while playing on 4th position. So there will be no shock if Rayudu makes his place.
Always special to meet my role model, @sachin_rt. ☺️#INDvSA pic.twitter.com/TvrqjMdjrU

— Ajinkya Rahane (@ajinkyarahane88) June 5, 2019
Ajinkya Rahane - Yes, you may be shocked by his name but he is a big name and one big option for team India. Currently, he is playing county cricket in England for Hampshire, so he will be familiar with England & wales pitches.
Also Read - Hardik Pandya Effect: Virat Kohli on why he played second fiddle vs Australia