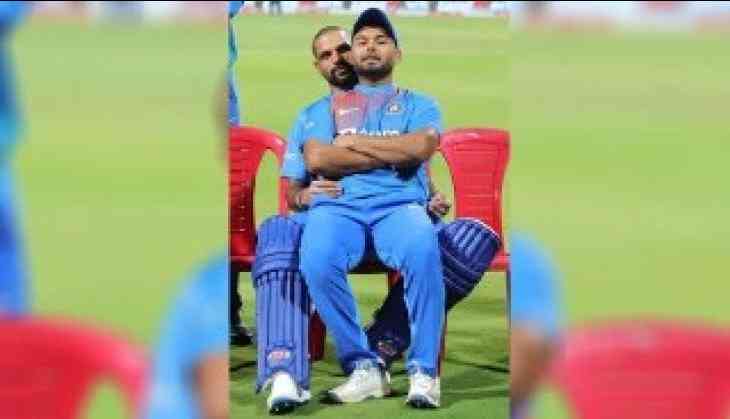 Recently, Indian crickerer Shikhar Dhawan narrated an incident about a picture with youngster Rishabh Pant that circulated rapidly and widely on the internet. The Indian opener made an appearence on India TV's Aap Ki Adaalat and was questioned about a picture of Rishabh Pant sitting on his lap.
The picture, clicked during India's T20 series against South Africa, promptly steered several meme, especially with Pant under the scanner for his dismaying display with the bat.
"He just came and sat on my lap," Dhawan said.
"I told him 'Rishabh, get up, someone will click a photo. I don't love guys that much that I'll make them sit on my lap,'" he added as the audience burst out in laughter.
"But he is 21-22 years, and he doesn't listen. So he sat on my lap and said 'I will sit here only'. So I said 'Sit, what can I do?'" Dhawan said.
"He is young and cheerful like most guys his age," Dhawan added.
Recently, the young wicket-keeper has come under immense pressure after failing to impress against South Africa in the T20 series. He became a major talking point after head coach Ravi Shastri cautioned him for his poor shot selections.
However, Dhawan believes that Rishabh Pant has enough talent to sport team India's jersey for a long time to come.
"Rishabh Pant is very talented. With his talent, he will serve India for a long time," Dhawan said.
When questioned if Rishabh Pant needed to focus on his batting, Shikhar Dhawan stated that the youngster has been working hard and that his is going through a phase of bad form.
"He is completely focused and and working very hard. Sometimes there is just a situation where you can't perform. But he is learning a lot from his journey," Dhawan said.
"I am sure he will learn a lot. A player like him should be backed," Dhawan said.
After having a disappointing series against West Indies, Dhawan rediscovered himself in the second T20 against the Proteas, where he helped the men in blue with a 31 ball 40. and in the third match, he was the top scorer for India with a 25 ball 36.