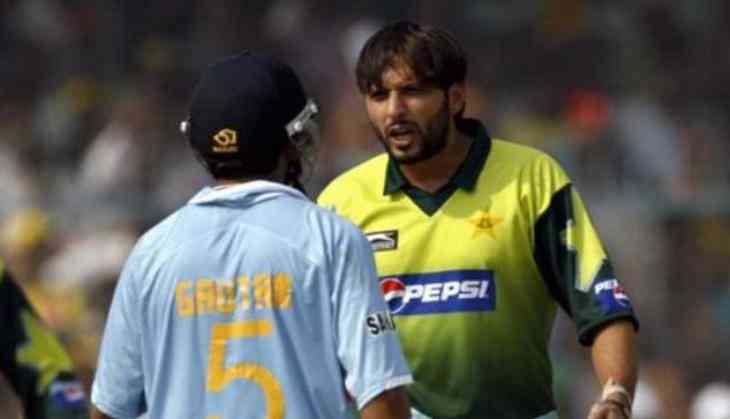 Shahid Afridi-Gautam Gambhir
Former Pakistan cricketer Shahid Afridi, while addressing a press conference on Saturday, hit out at cricketer turned politician Gautam Gambhir for suggesting that India should not play against arch-foes Pakistan in the World Cup.
Lashing out at Gautam Gambhir the former Pakistani cricketer Shahid Afridi said that India voted for a candidate who lacks wisdom, he also termed Gambhir 'foolish', India is to play Pakistan on 16th of June at the Old Trafford cricket stadium.
"Do you think it is sensible what Gautam Gambhir has said? Does this look like something which a sensible person would say? Do educated people talk like this," said Afridi.
In his recent biography 'Game Changer' Afridi has said that Gautam Gambhir has a huge attitude problem.
" Some rivalries were personal and some professional. First the curious case of Gambhir. Oh poor Gambhir. He and his attitude problem. He who has no personality. He who is barely a charecter at a higher level of professionalism. He who has no great record besides a lot of attitude," Afridi wrote in his book.
Gambhir also took to Twitter, saying " we are still granting visas to Pakistani's for medical perposes", even offering to take Afridi to a Psychiatrist personally.
" In Pakistan we call guys like him saryal (brunt up). Its simply because I like positive people. Dosen't matter if they are aggressive, but as a person you got to be positive and Gambhir was no close to being positive," added Afridi.
Gambhir and Afridi's estranged relation has gone to an extent that they dont even look eye to eye weather it be in or off the field. In 2007 both the players were booked for breaching the ICC code of conduct following the ODI match netween India vs Pakistan in Kanpur.