Rohan Raj
| Updated on: 4 December 2015, 2:13 IST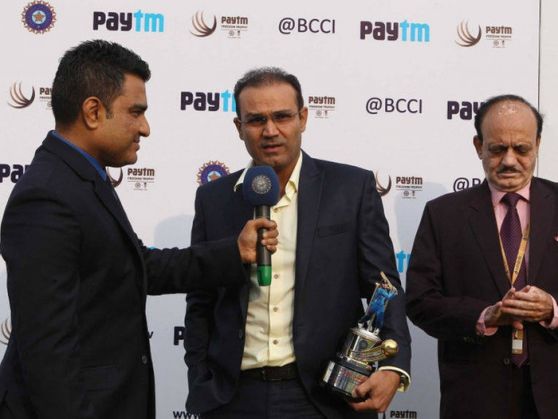 One of India's most destructive opening batsmen, Virender Sehwag, was formally felicitated by the Board of Control for Cricket in India (BCCI) on 3 December during the 4th Test between India and South Africa at the Feroz Shah Kotla stadium.
BCCI secretary Anurag Thakur presented a glittering trophy to Sehwag, who had announced his retirement in October, for his achievements in cricket. Sehwag was accompanied by his mother Krishna Sehwag, wife Aarti and sons Aryavir and Vedant.
In his brief farewell speech, Sehwag thanked everyone from BCCI to DDCA to his first coach AN Sharma and Satish Sharma, who first picked him for Delhi U-19s.
When it came to the captains, Sehwag said: "I want to thank my first captain Ajay Jadeja and other captains Sourav Ganguly, Rahul Dravid, Anil Kumble. I want to thank Sachin Tendulkar too."
However, there was no mention of India's limited-overs captain MS Dhoni - under whom he played for the national team for almost six years. While we can only speculate the reasons behind Dhoni's omission from Sehwag's farewell speech, it has surely catapulted their rift out in the open.
01
The captaincy conundrum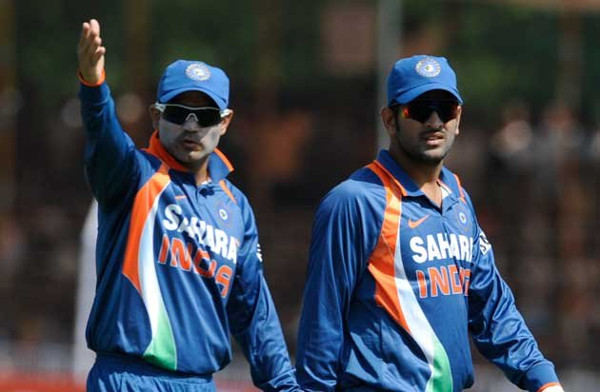 Until the 2007 World Cup, Virender Sehwag was tipped to take over from Rahul Dravid as captain. However, a sudden loss in form and Sehwag's failure to cement his place in the national side saw the BCCI turn towards the then rising Mahendra Singh Dhoni.
Dhoni was named captain of the Indian squad for the inaugural ICC World T20 held in South Africa in 2007. And the wicket-keeper batsman led India to the world title after a thrilling win over Pakistan in the final.
It was the final against Pakistan where the seeds of an alleged rift between the two were sown. Despite a dip in form, Sehwag was still considered a match-winner. So when Dhoni decided to drop the Delhi batsman to play the rookie Yusuf Pathan in the final, it didn't just turn a few heads in the dressing room but also tarnished the relations between Sehwag and the Indian skipper.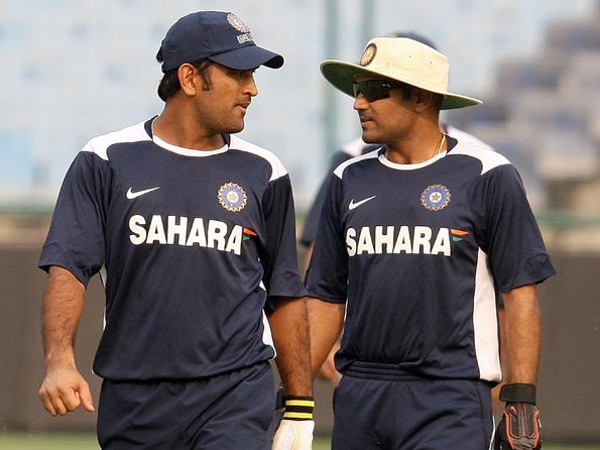 While Dhoni established his reputation as a worthy leader, his nemesis Sehwag was stripped off his vice-captaincy and dropped from both the ODI and Test squad due to a series of dismal performances. Following his return to form in 2008, Sehwag was reappointed as India's vice-captain for both Tests and ODIs.
The duo was at it again during the 2008 CB series when Dhoni benched Sehwag citing fitness issues, while the Indian opener dismissed his skipper's fitness concerns. The inclusion of Robin Uthappa for the series final saw Dhoni's relation with Sehwag sour further.
03
The public show of unity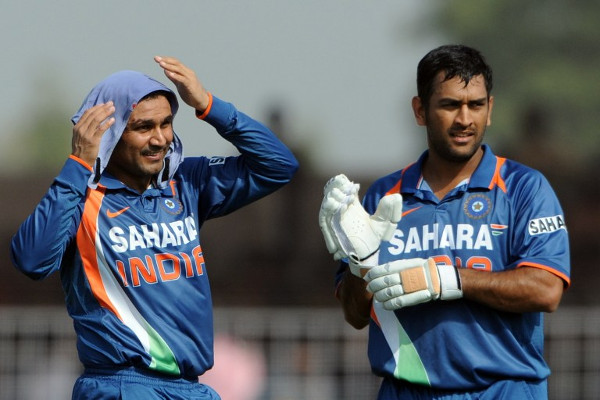 The lowest ebb in the Sehwag-Dhoni relationship was scripted in England during the 2009 Wold T20. Apparently upset over reports of his rift with Sehwag, Dhoni presented himself with his entire team before the media to suggest otherwise.
Dhoni, who was scheduled to address reporters on the eve of their opening match against Bangladesh in the tournament, came to the press conference with the rest of his mates only to read out a statement on the entire team's behalf which stressed the unity among them.
While firmly quashing reports of his alleged rift with Sehwag, Dhoni did not take any questions on the topic during the press conference. A day before, when asked to comment on Sehwag's shoulder injury, Dhoni had said: "May be you should ask his physio to issue a press release."
The comment was not only deemed as a case of bad PR but it also lent itself to media speculation of a rift between the two.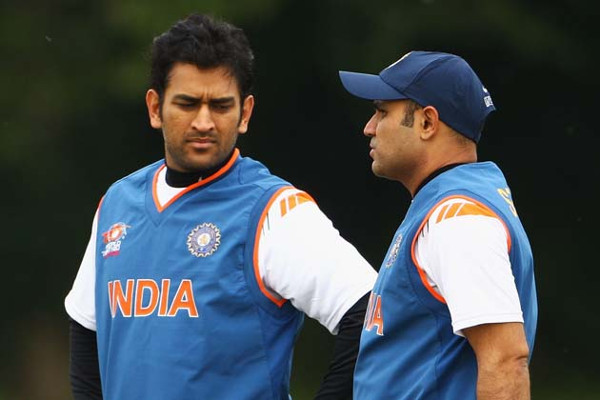 The fallout between Dhoni and Sehwag reached an all new level when the latter spelt his intent of not deputing for Dhoni as India's vice-captain. The Delhi batsman went on to express his desire to lead the national side.
"I will not be vice-captain, I am ready to be captain," Sehwag had declared in October 2009.
05
The controversial rotation policy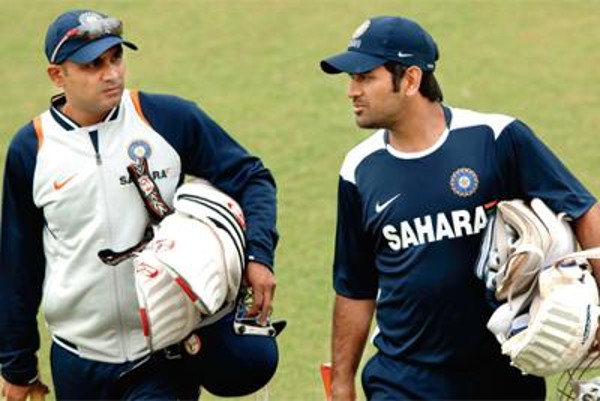 The 2012 tri-nation CB series in Australia turned out to be a cut-off point in the sour relationship of Dhoni and Sehwag. The Indian captain's decision to compromise on the best eleven by resting either Sehwag, Sachin Tendulkar and Gautam Gambhir received a lot of flak.
After a crushing defeat to Australia in the series, Dhoni had revealed that the three senior players were not being picked together as they are slow and could be costing the side at least 20 runs. "Have you seen my catch?" Sehwag snapped back in response, adding, "we have been fielding the same way for the last 10 years."
"I did not know what he (Dhoni) said and what's going on in the media. He told us he wanted to give a chance to youngsters who had come here and play the next World Cup. That's what he told us," Sehwag added.
06
Others who defied Dhoni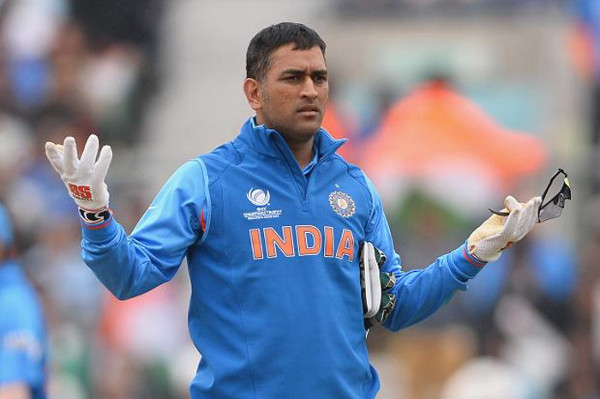 The outspoken former Indian cricketer Mohinder Amarnath, who was expected to become the chief national selector, found himself out of the panel as he questioned Dhoni's retention as Test captain despite a string of bad results for the team.
VVS Laxman, who retired in pique, did not invite Dhoni to his little post-retirement celebration at home that included all other team members. The two incidents clearly showed that all was not well in the team helmed by Dhoni.