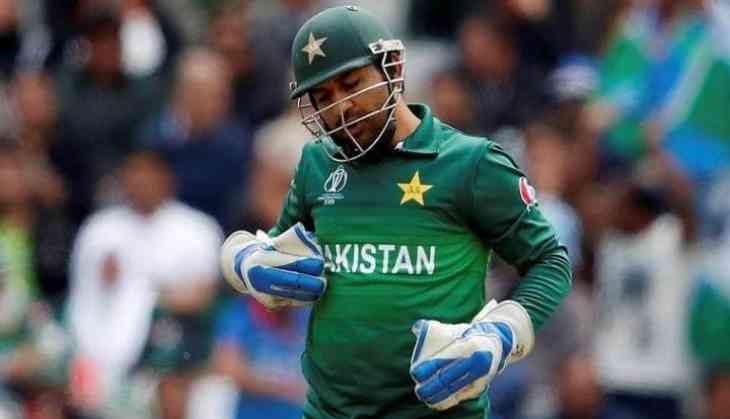 In what is being seen as Sarfaraz Ahmed's first response to all the abusive jokes that were launched at him after his team suffered a humiliating defeat against arch foes India in the ongoing edition of the ICC World Cup. Pakistan skipper Sarfaraz Ahmed has urged his fans to stay away from abuses while criticising the national team's performance.
"While criticising, one must not abuse. Criticise us on our cricket but don't get abusive with us," he said.
Although, other team members like Shoaib Malik and Mohammed Amir had asked the fans not to be too personal while criticising the team, Sarfaraz had stayed mum.
Nevertheless, after beating South Africa inorder to keep their last four hopes alive in the World Cup, Sarfaraz responded to a nasty comment that were thrown at him.
"I can't say anything on this. It's not in our hands to control what people say about us. Winning and losing is part of the game and it's not that we are the first team to have lost a match; previous teams also have faced defeats," said Sarfaraz.
"Had earlier teams faced the kind of criticism that we are facing, they would have realised how much these things hurt us. Now, there is social media. People write, comment and say whatever they like. These incidents affect the psychology of the players," he added.
Pakistan lost to India by 89 runs through DLS method at Old Trafford in Manchester on June 16th. With this India increased their winning run against Pakistan in the World Cup to seven wins in seven games.
After the defeat, Pakistan cricket team came under scrutiny with fans criticising the players, their fitness and their traning programme.
One of the fans even went to an extent of body shaming the skipper Sarfarz Ahmed at a mall in London, In a video the fan calls out the skipper and asks him why he is "fat as a pig". While Sarfaraz choses to walk away from the man, he continues to follow him saying "you have become very fat, like a pig. You should eat less".
Later following a backlash, the Paksitan fan issued an apology and deleated the clip.
"I don't know how that video got uploaded. I am very, very sorry. I myself am a Pakistani and I didn't realise this video would have such consequences. I know you all are very angry at me. I genuinely didn't think this issue would become so big. I had deleted the video. I didn't know he was with his son. I also didn't know he is Hafiz e Quran. Please forgive me if possible," the man said in another video.