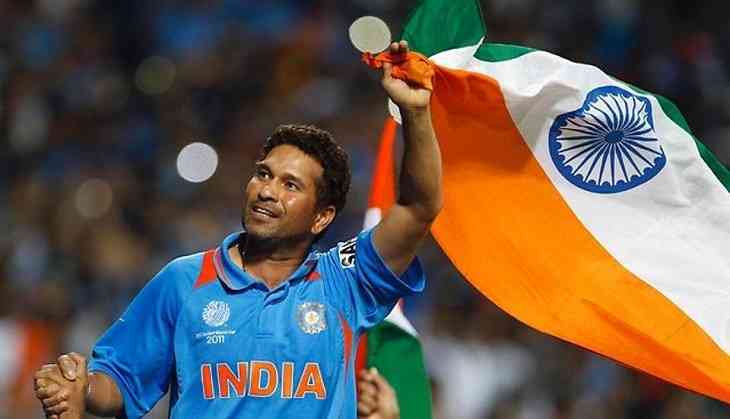 It looks like that fans are not happy with what Sachin Tendulkar, the 'God of Cricket' has expressed his views on will India play Pakistan in World Cup 2019 or not? Let us tell you that since the Pulwama attack, cricket fans of India have asked the BCCI to not allow the team to play Pakistan in the world cup 2019, however, BCCI has left the decision on the central government to decide.
Now when the same was asked to legend of cricket, Sachin Tendulkar should India play Pakistan or not? he was very clear that if India didn't play it will be a benefit to Pakistan. He said he would "hate" to see India give away two points to Pakistan by not playing them in the World Cup as such a act would only help the arch-rivals in the mega event. India would forfeit the match points if they boycott Pakistan in the group stage.
However, it doesn't go with his fans and the cricket fans that how can he support Sunil Gavaskar on playing Pakistan. The fans have started trolling the legendary of cricket and some of them even called him anti-nationalist.
Sachin Tendulkar v. 2.0 DISSAPPOINTS 😔😔 #NoCricketWithPakistan #SachinTendulkar pic.twitter.com/EkOGl8X0YF

— Rosy (@rose_k01) February 22, 2019
It may seem odd
But I'm in no mood to listen to even God
While his achievements are something we'll always laud
To hell with those points, we don't want to play their squad#SachinTendulkar#NoCricketWithPakistan

— Siddhi Sankalkar (@SiddhiSankalkar) February 23, 2019
Dear #SachinTendulkar I always considered you nobody and now I'm proud of it.

— पंडिताईन उवाचः (@jyotitiwari05) February 23, 2019
Dear "Two-point" @sachin_rt. You are not just another cricketer counting points and money. You are a Bharat Ratna and a Group Captain of the Indian Air Force.

Think like you are one. #SachinTendulkar

— Shakti Singh (@SinghShaktiABVP) February 23, 2019
This man today loose many people's respect.#SachinTendulkar

— mr.unknown⏺️ (@puremystirous) February 22, 2019
Winning a match won't compensate the loss we had
But not playing against them surely protect our dignity. #BoycottPakistanCricket #SachinTendulkar #HindustanVsPakistan https://t.co/RDgLZr7bcO

— Mayur Golait (@Mayur_Golait_) February 23, 2019
Legends like #SachinTendulkar #SunilGavaskar & #KapilDev have told #India to play #Cricket tournaments with Pakistan!

Hindutva Indian Media including Arnab Goswami called them anti-nationalists for saying so..
Does India still claim it champions #Democracy ?

— Mona Alam (@MonaAlamm) February 22, 2019
You may not agree with @sachin_rt
but we should respect his views #SachinTendulkar

— Pasand Nahi Aaya (@pasandnahi) February 23, 2019
And these very same people couple of years back wanted to beat up @thetanmay Bhatt for insulting #SachinTendulkar

— Manan Mehta (@mehtaM42) February 23, 2019
Well, if there is a part of society that is trolling Sachin Tendulkar but there is a section who is also supporting the cricketer for his achievements and what he did for India. Meanwhile, Sachin has always been supportive to the game and according to him not playing against Pakistan will only benefit them. If it happened then surely the team India can also loose world cup 2019.