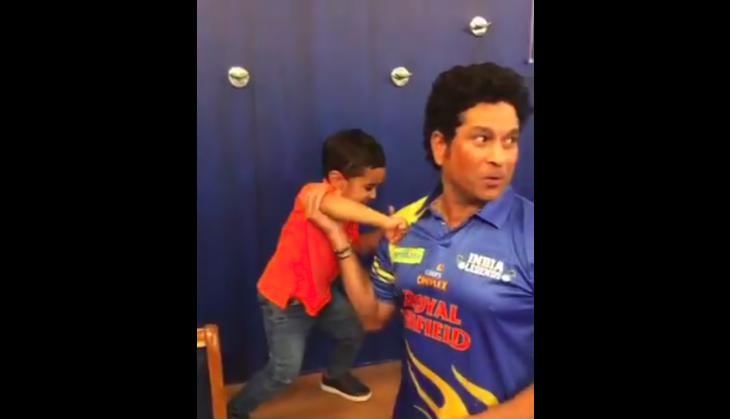 India's batting legend Sachin Tendulkar on Sunday was seen in a jolly frame of mind with former Indian pacer Irfan Pathan's son, Imran. Sachin Tendulkar left a comment on a video shared by Pathan, in which he was seen engaging in a funny boxing match with the kid. He captioned the clip, "Always fun hanging out with little kids. Your muscles will one day definitely be bigger and stronger than mine and your father's, Imran. Grinning face @IrfanPathan."
#Imran didn't realise what he did 🤭 he will when he grows up... #boxing @sachin_rt paji😇 pic.twitter.com/RL81yBoYmX

— Irfan Pathan (@IrfanPathan) March 8, 2020
Tendulkar and Pathan are currently taking part in Road Safety World Series. A five nation T20 cricket tournament, will exhibit some of the biggest names in cricket form India, Australia, West Indies, Sri Lanks and South Africa.
The key focus of the tournament is to create awareness about road safety and change people's mind towards their doings on the road.
The first game of the tournament was played on 7th March, India Legends secure a huge seven wicket win over West Indies Legends.
Australia Legends will lock horns with Sri Lanka legends later in the day in the second game of the Road Safety World Series.
Also Read: MSK Prasad opens up on why Virat Kohli was chosen as MS Dhoni's successor
Also Read: IPL 2020: BCCI chief Saurav Ganguly responds to rumours on cancellation of T20 league