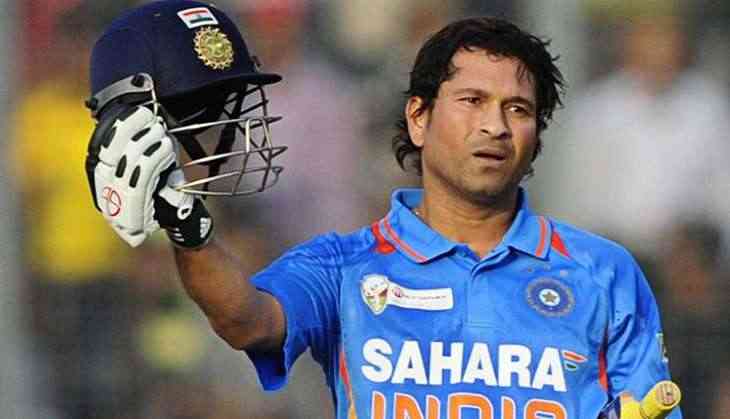 There have been myths around great people. Myths that are known to common man, myths that are closer to people's hearts than the real truth. Myths that stop being fantasy, come into the real world and start shaping the world and minds around them. Our generation has witnessed one such myth, and that is of turning a cricketer into a God, myth of considering a player more than a human, myth that is no more a myth, which is truer than most of the truths known to us.
One such man is Sachin Tendulkar and one such myth is that he is the 'cricket God.' While making a God out of a man may seem like a mere exaggeration but mind you, this is not the case when we talk about Sachin Tendulkar. The 16-year-old boy, when first came down the pavilion to face the ferocious pacers, delivering balls at over 150kmph, in the times when helmets were fragile and the pads were rather soft sheets. He was the man who faced bowlers a feet taller than him with courage and grit few men are blessed with.
There is this supernatural almost superstitious thing that is often linked with great men that they are expected of things that have never been done, heights that have never been touched, achievements that have never been achieved. Common men admire their star to see if he can make wonders work, whether he can make the magic happen! Can he do the impossible? Can he make yet another record? Can he hit one more century? Can he hit a century for the 100th time!
Seldom does the hero smiles at the admirers and does what he is expected of and the smile reciprocates on the faces of the fans. However, Sachin Tendulkar has a face that smiles often. Even during, his cricketing days, he broke the headlines and records with a single stroke.
It is a special occasion for the cricket fans who have watched the God playing, swinging his bat, running swiftly the 22-yards distance, playing the cover drive, timing each shot with an accuracy a few cricketers are born with, hitting the shots that later became a part of the batting text-books. Sachin hit his 100th century on this very day, exactly 6 years back from today.
It was March 16, 2012, when Sachin hit his last International hundred against Bangladesh. Tendulkar, the leading run scorer in the history of both Test and ODI cricket, achieved the most-coveted ton by taking a single off Shakib Al Hasan against Bangladesh in Asia Cup.
"I can't think of anything at this stage, it has been a tough phase for me," Tendulkar had said after reaching the milestone. Sachin played his own way, the God way, and watching him batting has created the choicest of the memories for those who have registered Sachin batting in their minds.
Also To Read- While defending Rabada, Paul Harris takes a dig at Virat Kohli; gets trolled back