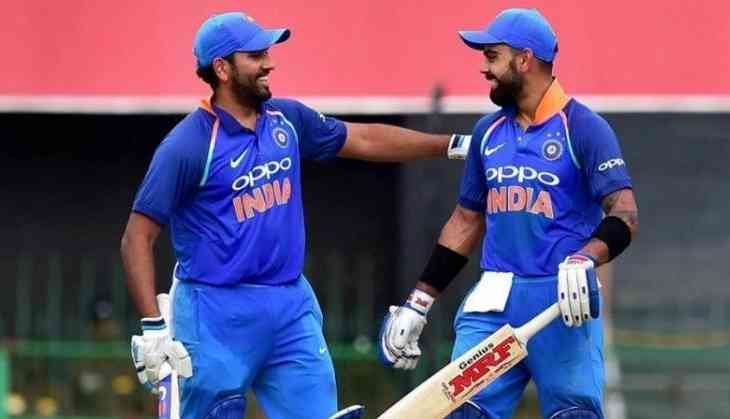 Rohit Sharma better know as the hitman and skipper Virat Kohli are on the verge of breaking some major records when India will play Sri Lanka in their last league match of the ongoing World Cup 2019 at Headingley this afternoon. Rohit Sharma has been in brilliant form in this World Cup, prompting Virat Kohli to assess him as the best ODI batsman.
1. Sangakkara's record
Rohit Sharma has so far scored four hundreds in this World Cup, which was against South Africa, Pakistan, England and Bangladesh. He is tied with former Sri Lanka wicket keeper batsman Kumar Sangakkara, who scored four hundreds in the 2015 World Cup edition. If Rohit scores a century today against Sri Lanka, he will surpass Sangakkara's record.
2. Looking to surpass Shakib, Tendulkar
The Indian vice captain now has 544 runs in the group stages of the World Cup. The third most after Shakib Al Hasan who has 606, Sachin Tendulkar (586, 2003) and Mathew Hayden (580, 2007) are ahead of him at the moment.
3. Getting ahead of Tendulkar, Hayden
Sachin Tendulkar and Mathew Hayden are still ahead of him in the ranks of highest run scorer in a single World Cup. With 544 runs already, Rohit can look forward to own the record.
4. Kohli looking to join Tendulkar, Ganguly
Skipper Virat Kohli needs five more runs ro complete 1000 runs in World Cup matches. Sachin Tendulkar tops the list with 2278 runs from 44 innings and Ganguly has 1006 runs in 21 innings. Kohli has scored five fifties in the World Cup, a record that he shares with Australia's Steve Smith.
AlsoRead:http://www.catchnews.com/cricket-news/here-s-what-ms-dhoni-has-to-say-about-his-retirement-166036.html
http://www.catchnews.com/cricket-news/ms-dhoni-s-birthday-what-celebrities-had-said-about-dhoni-in-past-166051.html