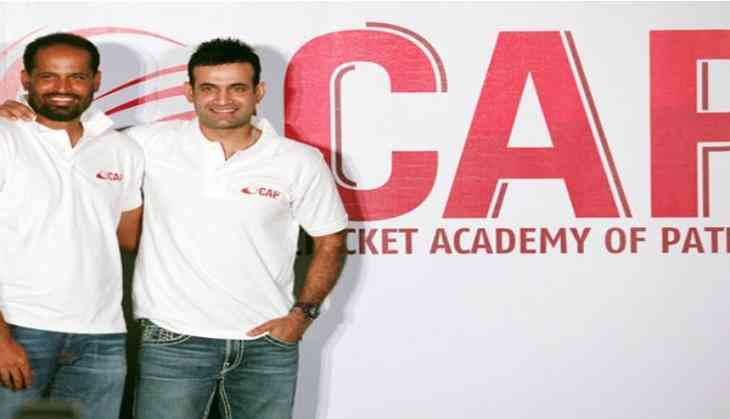 Proper training of coaches imperative for budding Indian cricketers: Irfan Pathan
Indian all-rounder Irfan Pathan, who has been providing budding cricketers with guidance and training at the Cricket Academy of Pathans (CAP) along with his elder brother Yusuf, feels there is a need for proper training of coaches so that the aspiring players are groomed in a proper way and provided with all the technicalities of the sport.
After the successful launch of the Cricket Academy of Pathans in Raipur, Port Blair and Lunawada, the Pathan brothers had in June inaugurated their fourth cricket academy in Surat.
Instituted with an aim to redefine and set standards to the backbone of cricket i.e. coaching, the Pathan brothers have shaped their dreams into Cricket Academy of Pathans. CAP will be launched in five more cities in India in the next couple of months. CAP intends to have around 20 academies across the country by the end of this year.
CAP curriculum entails of two modules i.e. ' Coaching the Coaches' and ' Coaching the Kids'.
The core team at the Cricket Academy of Pathans is made up of cricketing greats like former India coach Greg Chappell and Cameron Tradell along with Yusuf and Irfan.
CAP strongly believes that the need of the hour is to strengthen the "backbone" of effective delivery of cricket training and development - that is the 'coach'. Hence, CAP will train aspiring coaches to ensure efficient coaches are produced who in turn will be guiding the kids.
Talking about the 'Coaching with Coaches' module, Irfan, while talking to ANI, said, "It is very important because when we were growing up as a kid, me and my brother, one thing was there, there were a lot of academies where they had coaches who had very little knowledge of the training."
"Obviously, as time goes, you get better but there were a lot of coaches who had minimum knowledge about the proper technicalities of the game, the whole knowledge of the process of the kid's growth as well."
"So, when we were growing up, we knew what's required in the future. It's always been at the back of our minds as well to have coaches to be trained. They are the main ones which are going to take the academy forward. So, that's how the idea came up," he added.
Irfan, who is considered as one of India's finest all-rounders, believes the curriculum---which involves both mental and physical aspect of training of the kids---will prove to be extremely beneficial for budding cricketers.
"There are a lot of things in this curriculum involves not only the physical part, but also the mental part. I really believe our Indian young boys will benefit a lot from this curriculum. Of course, the pitches and the conditions are different in India and Australia, but what has been successful there, I am sure it will also work here as well," he said.
Apart from coaching, CAP also focuses and consults on nutrition, physical development of the kids who enroll with the academy. The coaches will also be trained to gauge the strength and weakness of a kid on the field and will be guided accordingly.
Commenting on this aspect Irfan said, "It is very important to gauge weaknesses and strengths of a kid and accordingly guide him on whether to concentrate more on batting or bowling. Many a times, a talent is lost out due to improper guidance or the coaches' inability to gauge these important aspects and guide them accordingly. We at CAP will ensure each child gets the required attention."
"We came up with this idea in 2014. I have been working with the Pathan brothers for almost 10-12 years. And they were very keen to give it back to the game. So, then we came up with the idea of customizing Cricket Academy of Pathans," said Harmeet Vasdev, Managing Director, CAP.
"Cricket Australia also uses this same curriculum. We have been fortunate enough to develop craft of cricket. We have been fortunate enough to take this curriculum and provide it to our Indian cricketers," he added.
The academy has tied up with PitchVision to keep a check on students playing match. This technology bridge the gap between Irfan, Yousuf, coaches and students. With technological partner in place, PitchVision facilitates video conferencing service to
connect students with Pathan brothers, Chappell and Tradell.
So far, more than 350 students have been enrolled till date in these academies.
-ANI