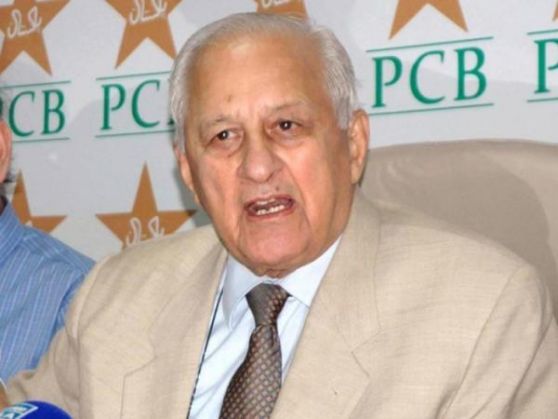 Terming the treatment meted out to him in India as "disappointing", Pakistan Cricket Board Chairman Shahryar Khan on Wednesday issued a veiled threat that the PCB will "have to review security situation" regarding its team's participation in the World T20 early next year.
Khan, who returned home from India after failing to meet the top brass of the BCCI, asked the Indian Board to make its intentions clear about the proposed series in December in a week's time or else the PCB will take a call regarding its team taking part in the World T20.
India will host the World T20 next year in March-April.
"We will wait and see for next week or so. Once we know the stance of BCCI we will decide. We will cross the bridge when we come to it. But we will have to review the situation about security for Pakistanis in India as our team also has to go for the World T20," Khan told at a press conference in Lahore.
Khan said that ICC President Zaheer Abbas has already raised concerns that if the current situation persisted in India, then there would be issues of guarantee of safety for players and officials in the World T20.
Khan, however, stopped short of ruling out any chances of the two countries playing the bilateral series in December in the UAE.
"Pakistan has always believed that politics and sports should be kept apart. We have tried to have this series because I know from experience cricket does help in some way to heal wounds and ease tensions between the two countries. We want to play India for cricket not for money," he said.
"We have not played them for last eight years and we have done well. So it does not make that much of a financial difference to us. Let us say if the series is held in December it will be a bonus for us," he added.
The career diplomat said the PCB would be writing to the ICC and the BCCI to register its displeasure over the way the PCB delegation was treated in Mumbai and New Delhi.
"I am really disappointed at the way the BCCI treated us in India. Once the scheduled meeting with their President Shashank Manohar was called off due to the Shiv Sena protest on Monday morning no one from their board bothered to let us know what was happening. Neither was there any formal apology or regret over what happened there," said the PCB chief.
"I am upset and I got this feeling this time we did not get the right hospitality from the BCCI. I am going to write to them and the ICC informing them about our concerns and reservations on the treatment we got in India," Khan said.
Distributing an invitation letter from Manohar to the reporters, Khan made it clear the PCB delegation went to Mumbai on the invitation of the BCCI chief.
"All this stuff about us going there on our own initiative or making a courtesy visit is incorrect. I had a telephonic discussion with Manohar and he invited me to meet in Mumbai on Monday at 11 in the morning. Later we also got a written invitation.
"I told the BCCI President even than was it advisable hold the meeting in Mumbai and we could also have it in his hometown Nagpur or even Delhi but he assured me everything would be fine.
Khan said apart from two phone calls from the BCCI office on Monday morning, first informing that the meeting was postponed and later about it being called off, there was no other contact from the BCCI officials with him.
-PTI