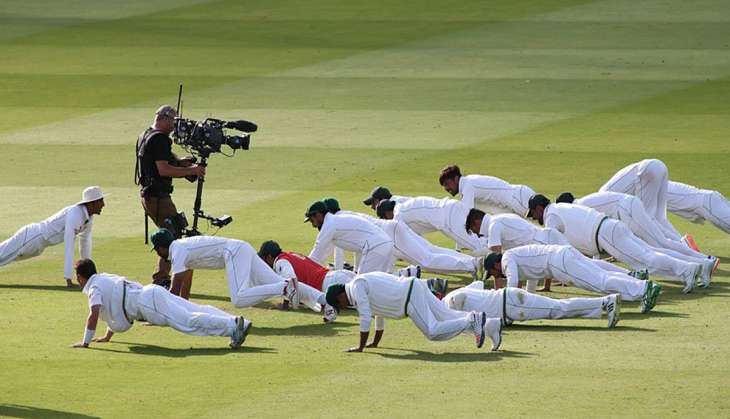 A ruling party lawmaker criticised Pakistani cricketers for promoting a negative image of the country by doing push-ups instead of prayers after a match win, drawing a sharp reaction from the cricket board which said it's up to the discretion of players.
Pakistan Muslim League-Nawaz Senator Rana Afzal Khan raised the issue during meeting of Senate Standing Committee on Sports.
The Express Tribune reported that Khan said the players should perform "nafl prayers or do sajdas" rather than push-ups.
He said cricket is "a gentleman's game" and the act of doing push-ups does not reflect the calibre of the sport. "Push-up celebration promotes a negative image of Pakistan and needs to be revisited," Khan said.
Pakistan Cricket Board Executive Committee Chairman Najam Sethi rejected reports that push-up celebration have been banned.
"Oh for God's sake, there is no ban on push-ups! In fact I think players should do 100 push-ups when they score a century!" Sehti said in a tweet.
"PCB highly appreciates fitness training facilities of Pakistan army."
"Sajda/push-ups etc done at discretion of players." "Media should refrain from politicising Pakistan cricket team," he said further.
Earlier media reports quoting Sethi said the board decided to ban the practice after the lawmaker raised objection over it.
Push-ups became a popular mode of celebrating personal feats among Pakistani players during their tour of England following their training camp with the Pakistan Army.
Push-ups as celebration were first done by skipper Misbah-ul-Haq after he completed his century in a Test match against England in July. After that, the entire Pakistani team did the same after their Test win at Lord's.
(PTI)