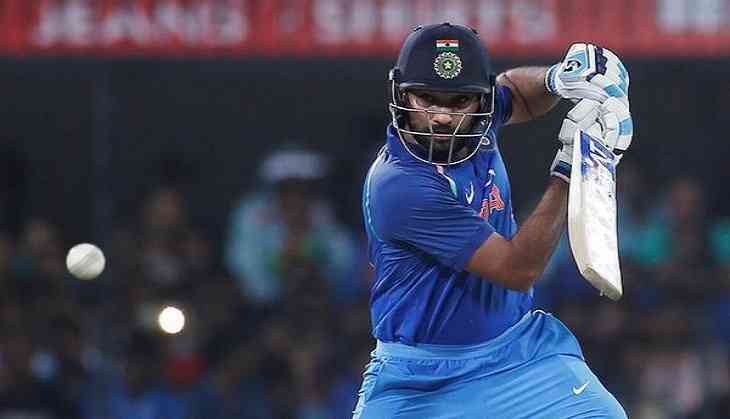 Social media went crazy after witnessing Dinesh Karthik's magical Nidahas Trophy final between India and Bangladesh. Dinesh Karthik and his incomparable 29 runs knock are something that has got imprinted on the minds of all the cricket fans. Needing 5 runs off the last ball of the final match, Dinesh Karthik brought the match to a happy ending with his flat six over the extra-cover.
The hopes were slim on India's win but Dinesh Karthik after the fall of Manish Pandey came in like a saviour. He smashed 2 maximums and as many as 4 fours to add crucial 22 runs to the Indian scoreboard in the 19th over. However, Dinesh Karthik arrived just after the fall of Manish Pandey and started batting like he had been there for last 10 overs. As soon as Dinesh came in for batting, he was all fire, He blasted the stadium with his sixers and fours.
While, the social media went berserk celebrating India's win, which was credited to none but Dinesh Karthik. From Sachin Tendulkar to Virat Kohli to Jaspreet Bumrah, players lined up for congratulating the team and Dinesh Karthik as well. However, this was not the case with Murali Vijay who was well on schedule in congratulating the Team India on their Nidahas Trophy victory but he missed to congratulate the man of the moment, Dinesh Karthik.
Remarkable win boys @bcci 🌟 pretty much typifies the brand of cricket we play 🤙🏽 #INDVBAN #Champions #TeamIndia #supremacy #NidahasTrophy #NidahasTrophyFinal pic.twitter.com/ewUKclUX29

— Murali Vijay (@mvj888) March 18, 2018
The two players from Tamil Nadu have once been good friends to each other but the situation is not so sweet as of now for Dinesh Karthik' ex-wife is married to Murali Vijay which might be one of the reasons for the cold relations between the two players.
The social media was unforgiving and reacted ruthlessly to Murali Vijay for the ignorance he displayed towards the man of the hour.
@mvj888 this is not the first time you are doing this. Even when TN won the Vijay Hazare trophy last year you tweets congratulating the coach when @DineshKarthik played a stellar role for the win. Why tweet when u know you will get a backlash??? Grow up man

— Srinath (@srinath316) March 19, 2018
Well, I was expecting you to appreciate tonight's hero as well. Forget the bad blood between you two for a minute and do what's right to do as a person!

— Vivek Raj Singh (@Raj0904) March 18, 2018
Dinesh Karthik was rightly given the man of the match title for his performance at the crucial time. He proved himself to be the perfect man to do the job and he was the man who steered India to lift the Trophy.
Also To Read- Nidahas Trophy Final: Indian skipper Virat Kohli reacts to Dinesh Karthik's last ball sixer