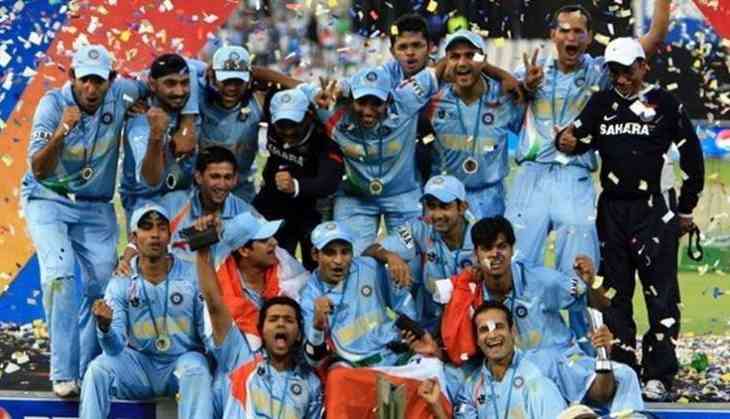 Former Indian skipper MS Dhoni looks back on ICC World Cup T20I 2007 triumph against Pakistan and stated that they had practiced the bowl-out ahead of every practice session for fun.
"There was something particular about that World Cup. The 'Bowl-Out' was one of the things. I remember we would go for practice. Before every practice session, we would practice 'Bowl Out' before or after the warm-up," the International Cricket Council (ICC) quoted Dhoni as saying.
AlsoRead: Harbhajan Singh and Irfan Pathan all set to make film debut
During the first edition of the T20 World Cup, the men in blue won the group stage match against Pakistan in bowl-out, after the stipulated 20 overs both teams scored the same runs and as a consequence, bowl out was put into play.
Team India began the bowl-out and hit the wickets in their first three tries, while Pakistan fell short in the first three attempts.
"We said it very clear it is for fun but at the same time, whoever hits the wicket most number of times, we will use him if the situation arises," he added.
Later, India went on to win the T20 World Cup beating Pakistan in the final by final by five runs.
AlsoRead: Sachin Tendulkar and Brian Lara to return to field for T20 tournament
As per Dhoni, in a team game, every player has a role to play and they need to execute it well for the team.
"Ultimately, winning or losing comes to each and every individual who is part of the team. In a team sport, everybody has a role and responsibility. Throughout the T20 World Cup, the roles and responsibilities given to individuals were fulfilled in the best manner possible. That was the reason we won the tournament," Dhoni said.
The veteran wicket-keeper also went on to say the he is good at managing his emotions than others.
"I am like everyone else but I control my emotions better than some of the other individuals. I would say, I feel equally frustrated. I also feel angry at times, disappointed. But what is important is that none of these feelings are constructive," Dhoni said.
MS Dhoni has distanced himself from the game since India's early exit from the World Cup 2019. He made himself unavailable for the tour of West Indies and also for series against South Africa at home.