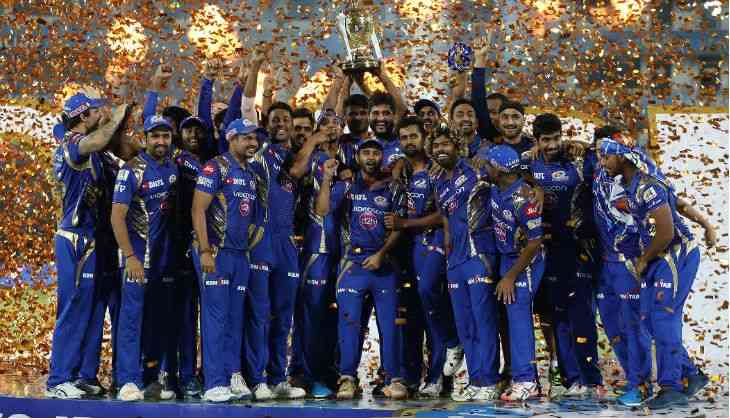 When Indian Premier League (IPL) fans were glued to the TV screens watching the nail-biting final match that was played between Rising Pune Supergiant (RPS) and the Mumbai Indians (MI), there was a Twitter handle named 'cricket insider' that made nine predictions and eight of them were bang on target.
It may be hard to believe but the predictions made by this Twitter handle later proved to be correct.
In an incredible fightback, Mumbai vanquished Pune by just one run and lifted the IPL 2017 trophy in Hyderabad on Sunday.
Now it will be interesting to see the predictions made by this Twitter handle about the upcoming tournament Champions Trophy that is all set to begin from June 1.
I will try to do same for champians trophy. As some guys want..
But who knows about luck.
Even won 1400 rs. In dream11 😂😂
2/2

— Cricket Insider (@theDcricket) May 22, 2017
The predictions made by 'cricket insider' were accurately calculated following which eight out of nine prediction proved to be on point.
Here are the tweets that were tweeted on the day of final match:
So here are stats for tadays match in the ipl final..
Dated 21/may/2018

— Cricket Insider (@theDcricket) May 20, 2017
No matter which team wins toss RPS has to bowl first.
Means if rps wins the toss it will choose bowling..
Mumbai will take batting if wins

— Cricket Insider (@theDcricket) May 20, 2017
Rahul tripathi will be out under 10 runs

— Cricket Insider (@theDcricket) May 20, 2017
There would be total 0 no balls

— Cricket Insider (@theDcricket) May 20, 2017
Mumbai will bat first and make 120 to 130 run and will win

— Cricket Insider (@theDcricket) May 20, 2017
Parthiv patel will hit under 10

— Cricket Insider (@theDcricket) May 20, 2017
Steave amith will play with strike rate less than 100

— Cricket Insider (@theDcricket) May 20, 2017
Polard will hit 1 six

— Cricket Insider (@theDcricket) May 20, 2017
Smith will be highest scorer

— Cricket Insider (@theDcricket) May 20, 2017
Mumbai will win in last over

— Cricket Insider (@theDcricket) May 20, 2017