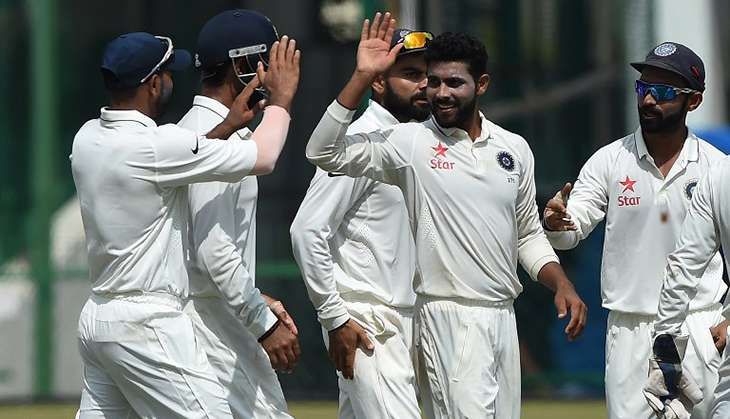 India scripted history on 26 September when it won its 500th Test match against New Zealand in Kanpur with 197 runs.
Ball-by-ball updates here:
On Day 5 of the Kanpur Test, spinners dominated the post match session as they did not allow the New Zealand batsmen to settle down. Santner and Sodi tried attack the bowlers but fell to Jadeja and Ashwin.
12: 53 pm: Ashwin dismissed Neil Wagner and gave India a win at Kanpur.
12:42 pm: Wicket! Aswhin rounds up Sodhi 17 (38) as he spins the ball back into the leg stump around the wicket. New Zealand faultering at 236/9.
12:14 pm: Ish Sodhi hits Ashwin in the stands for a big six in the 83 over. Sodhi 17 (37.)
Second new ball taken in the 80 over of the game. Jadeja produces a maiden over with the new ball.
12:31 pm: Ashwin produces yet another chance of a wicket against Trent Boult. LBW appeal turned down the umpire as the ball was outside off-stump.
12:30 pm: Aswhin strikes! Spins the ball back to off-side putting Santner in awkward position resulting in a catch by Rohit Sharma. New Zealand at 223/8.
12:25 pm : Ashwin close to a wicket with the off spin into the right hander, Sodhi. Appeal turned down by Kettleborough.
12:21 pm: Ish Sodhi 6 (20) hits his first boundary against Jadeja.
12:19 pm: Ashwin spun the ball back and high into Santner. Santner survives.
12:17 pm: Santner 67( 172) shuffled on his backfoot and hit Ashwin for a boundary in the off-side. Santner and Sodhi looking to attack the spinners
12:14 pm: Game resumes after lunch break. Ashwin leads the bowling attack by producing couple of chances.
First session ends with New Zealand on 205/7 in 73 overs. Indian Bowlers dominated the first session by picking up 4 wickets. Santner 57 (160) and Ish Sodhi 2 (12) will be looking to draw the match. In the beginning of the first session, Santner and Ronchi put up a big partnership of 102 runs (217) which was broken just after the drinks break by Jadeja.
Ish Sodhi diligently blocks Jadeja's in the 73 over and keeps Kiwis hope alive.
Change in bowling yet again. Kohli brings back Jadeja.
11:24 am: Santner beautifully flicks Shami on the leg side for a boundary.
Indian bowlers are in the commanding position as they are giving a tough time to the batsmen on the pitch. Lot of reverse swing from Shami and off-cutters from Umesh Yadav are giving plenty of chances to India to topple the Kiwis.
11:13 am: Shami misses his hattrick as the ball swings past by the wicket with Ish Sodhi on strike.
11:11 am: Mohammad Shami strikes! bowls Mark Craig 1(2) out, picking up his second wicket in the 70 over. New Zealand 196/7.
11:08 am: Mitchell Santner completes his 50 off 149 balls.
11:05 am: LBW! Shami gets rid of BJ Watling 18(36) in the 68 over. New Zealand stands at 194/6.
Murali Vijay introduced as bowling change in the 66th over of the match.
10:55 am: Wriddhiman Saha just fell a bit short of a catch which hit Santner's gloves and went for a boundary in the leg side.
10:54 am: Richard Kettleborough turned down Shami's LBW appeal against Watling, as the ball seemed to hit the pad a tad bit high.
10:47 am: Richard Kettleborough turns down Jadeja's appeal as the ball spun a bit towards the leg side.
10:41 am: Jadeja nearly dismissed Santner as the ball spun high and into Santner's pad.
New Zealand still need 259 to win the 1st Test against India. And India needs more 5 wickets.
10:38 am: BJ Watling hits Ashwin for a four in the off-side . Watling 9 (11), New Zealand 175/5 in 60 overs.
10:34 am: BJ Watling hit Jadeja for a four in the leg side. New Zealand at the end of 60 overs stand at 170/5.
10:31 am:
Santner hits Ashwin for a six. Santner 37 (118).
10:26 am: Wicket! Jadeja dismissed Ronchi for 80 (120). India gets its first wicket as Ronchi gets caught by Ashwin while going for the big shot. New Zealand stand at 158/5 at the end of 58 overs.
Drinks break: New Zealand stand at 158/4 (57 overs,) Mitchell Santner 31(112) and Luke Rochi 80(116).
10:18 am: Bowling wide,Umesh Yadav missed Santner's bat by an inch, giving India a chance to take a wicket.
Captain Virat Kohli brought seamer Umesh Yadav back in the bowling attack. New Zealand, at the end of 55 over, stand at 154/4.
In search of the first wicket on Day 5, Ashwin and Jadeja tossed the ball to Ronchi for him to drive.
09:50 am: Luke Ronchi shuffled around the wicket and hit against the spin, completing his 50 runs off 82 balls.