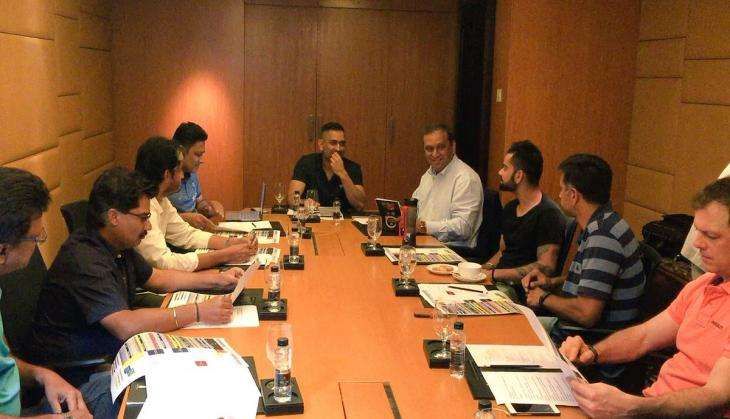 India's Test captain Virat Kohli along with his limited overs counterpart Mahendra Singh Dhoni had a lengthy meeting with chief coach Anil Kumble and 'A' team coach Rahul Dravid to chalk out a roadmap for Indian cricket for the 2016-17 season.
The meeting was also attended by chief national selector Sandeep Patil, GM (Cricket Operations) MV Sridhar, NCA batting coach WV Raman, spin bowling coach Narendra Hirwani, chairman of junior selection committee Venkatesh Prasad and physio Andrew Leipus.
Issues ranging from domestic cricket set up, India A tours, injury management and workload of the players and strengthening the bench strength of Indian cricket were discussed in detail to "synchronise the efforts of everyone working for the betterment" of Indian cricket.
Speaking on the meeting, BCCI president Anurag Thakur said, "Idea was to bring all the stakeholders on the same page as we draw the path for the upcoming season of Indian cricket. Based on their discussions and recommendations, BCCI will plan the future accordingly. This kind of brainstorming sessions will be a regular feature to streamline our efforts to take Indian cricket to new heights."
Board secretary Ajay Shirke said: "All the key people who are working at various levels of Indian cricket were sitting on the same table. I am looking forward to some constructive feedback and suggestions coming from them which could be executed on the long term and short term basis."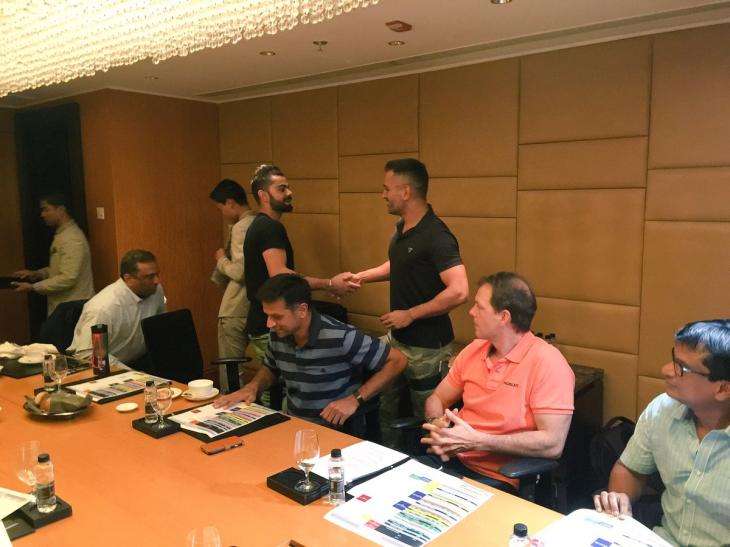 Virat Kohli and MS Dhoni greet each other at the BCCI meeting. (Photo: Twitter/@BCCI)
Kumble said, "This was a very fruitful exercise. Sitting here, we all have one intention and agenda: To align our actions to maximise the potential of Indian cricket. For that we all need to work as one unit. I am thankful to the BCCI for organising such an initiative."
Limited overs captain Dhoni gave his inputs about what his assessment is about the bench-strength of the team as he led a side comprising mostly A team players in Zimbabwe.
The focus will be on seamless transition from first-class to 'A' level and then to the senior teams.
According to reliable sources, there were discussions on creating a pool of fast bowlers who could be rotated keeping in mind the long and arduous season ahead. Leipus came into the picture as his role and input will be vital in injury management of the fast bowlers.
There has been a dearth of quality spinners with no competition for Ravichandran Ashwin, Ravi Jadeja and Amit Mishra. While Jayant Yadav, Axar Patel, Yuzvendra Chahal and Shahbaz Nadeem are there in the mix, a lot will depend on the feedback that A team coach Dravid gives.
With the 'A' team travelling to Australia in August, it will be an important tour for the team management and especially Test captain Kohli and coach Kumble to identify who can be likely replacements for first team players in case there is injury or loss of form.
For spin coach Hirwani, it will be his duty to ensure that spinners who are coming for NCA camps have clean action before they are taklen under Dravid's aegis at U-19 level. Raman, the NCA batting coach, will need to co-ordinate more with Dravid, who is also the national U-19 coach.
The significant meeting took place after the Indian team had a match simulation session where all the members wore customary whites to get a feel of match-like situation.