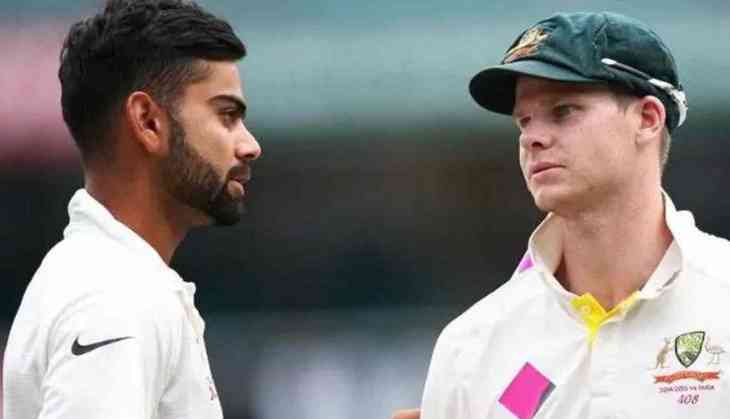 Following the conclusion of Ashes Test between Australia and England, which ended in a tie, former South African cricketer Jonty Rhodes weighs up ICC's number one ranked batsman Steve Smith to Indian skipper Virat Kohli and terms Smith as a batsman who scores the ugliest hundreds, while Virat Kohli was deemed as an idol, whom the younger generation should look upto as per the former Proteas fielding icon.
Steve Smith cumulated 774 runs during the five match Test series, Steve Smith came into this series as a cheat, who was involved in a ball tampering scandal in 2018, and at the end of the Ashes series the 30 year old received a standing ovation after having scored 774 runs with an average of 110.57.
AlsoRead:http://www.catchnews.com/cricket-news/sourav-ganguly-drops-massive-hint-on-coaching-the-current-indian-team-173106.html
During the series, Steve Smith went on to score three hundreds, including a double hundred and three half centuries in seven innings he played. The only time Smith was dismissed under 50 runs was when Stuart Broad got him for 23 runs.
Not long ago, Steve Smith found himself under a spot light after he helped the Australian team retain the Ashes. At first, Steve Smith was jeered by the English fans, but following his remarkable Ashes display, the jeering fans turned into clapping fans.
AlsoRead:http://www.catchnews.com/cricket-news/here-s-what-harbhajan-singh-has-to-say-about-shikhar-dhawan-ahead-of-t20-clash-against-s-africa-173073.html
Meanwhile, Indian run machine Virat Kohli scored two half centuries during the West Indies tour. He amassed 192 runs in the two match Test series. The Indian skipper now has to wait for the home Test series against South Africa inorder to oust Steve Smith from the ICC's Test ranking.
After weighing up Steve Smith to Virat Kohli, Jonty Rhodes put Kholi higher than Smith and said, "I enjoy watching Virat Kohli. Steve Smith, with that action and technique, makes the ugliest hundreds I have ever seen but the man just keeps scoring runs."
"Someone who likes to watch cricket would want to say 'Wow! What an amazing shot' as opposed to 'Oh! How on earth can he hit that?' So Virat Kohli right now," the South Africa legend said, during an interview with the New Indian Express.
AlsoRead:http://www.catchnews.com/cricket-news/ben-stokes-lambasted-the-sun-newspaper-for-publishing-story-on-family-tragedy-173066.html