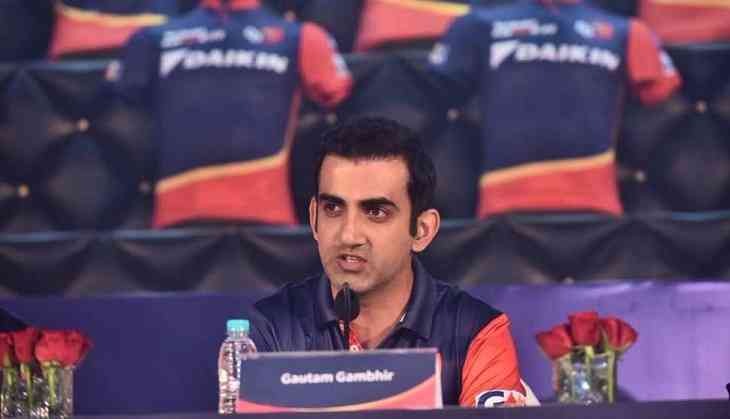 This IPL seems to be filled with twists and turn in the matches. Many players have been ruled out because of injuries while some of the players didn't play any match this year. Recently, a big news has come from Delhi Daredevils, whose skipper Gautam Gambhir has been stepped down. The decision was taken by Gambhir himself because he was unable to handle the pressure of the team as they have lost 5 matches out of 6.
Well, his fans get shocked with this that they won't be able to see him as a skipper. But, they all have praised him for his decision. He announced this shocking news during the press conference and also announced another big decision that no one has taken before in IPL. Gambhir said that he will play free for IPL and let go his entire IPL salary i.e. 2.8 crores.
According to him, his team didn't play well and unable to win the single match in IPL. Therefore, he found the decision justified. As, earlier, he also announced that anyhow he will win the IPL trophy for his team. But, something went wrong and the team got disappointment after losing 5 matches.
Also read: IPL 2018: These stunning pictures of KKR star player Nitish Rana's girlfriend will raise your heart beats; see pics
However, whatever be his decision, Twitterati have shown respect for him and poured the good wishes for him.
Here's how everyone reacted to Gautam's big decision:
Gautam Gambhir refuses to take salary and if he plays any match he will play for free. What a man 🙇🏻🙏🏻 pic.twitter.com/wG7xzEUzyd

— Team Gautam Gambhir (@gautamgambhir97) April 25, 2018
Gautam Gambhir is like Rahul Dravid who only played for the country and team but never got his share of it which was given to Sachin, Ganguly in case of Dravid.
Gambhir had a great contribution in winning us T20 WC nd 2011WC but that fame went to Dhoni.

— Mohan...🇮🇳 (@iamnavamohan) April 25, 2018
What is dis man made up of?.. how can he be so selfless?..

— angana sharma (@sharma_angana) April 25, 2018
He is the most selfless cricketer ever & he deserves much more respect

— Aniket Gawai (@Anik_Gawai17) April 25, 2018
Achcha hai Ab hum sab yahi mankar chale ki GG ab aur ek foundation chala rahe hai that is called #DelhiDaredevils

— Miss u Captain💔 (@ChandniGovind) April 25, 2018
@GautamGambhir Sirji please donate your salary to #IndianArmy.They need most and it will be more useful.#Respect

— Ganesh Bandekar (@iamganya2424) April 25, 2018
Gautam Gambhir has put other non-performers in a ''gambhir samasya''#GautamGambhir

— Mohan...🇮🇳 (@iamnavamohan) April 25, 2018
👏👏💝💝 love you

— Kiranreddy gopu (@gopu_kiranreddy) April 25, 2018
Gautam Gambhir HATS OFF to you man!!!! You are more than an inspiration idol! He just forego his salary cuz of non performance n will be playing rest of the matches of the season for free..!
Who in the cricketing world has so much courage??!
I Stan Mr Gambhir 💗

— Addy #GG 💗 (@dreamsredefined) April 25, 2018
.@GautamGambhir was full of praise for our new captain, Shreyas Iyer. #DilDilli #Dhadkega pic.twitter.com/cjdPGdyjFc

— Delhi Daredevils (@DelhiDaredevils) April 25, 2018
Well, now the new captain of Delhi Daredevils in Shreyas Iyer.
Also read: IPL 2018: Gautam Gambhir steps down as DD skipper; Shreyas Iyer to lead
What do you think over Gautam Gambhir decision? Comment here..
Watch Video:
Also read: IPL 2018, RCB vs CSK: Dhoni's army crushes Virat's Challengers in a nail-biting clash; see scoreboard