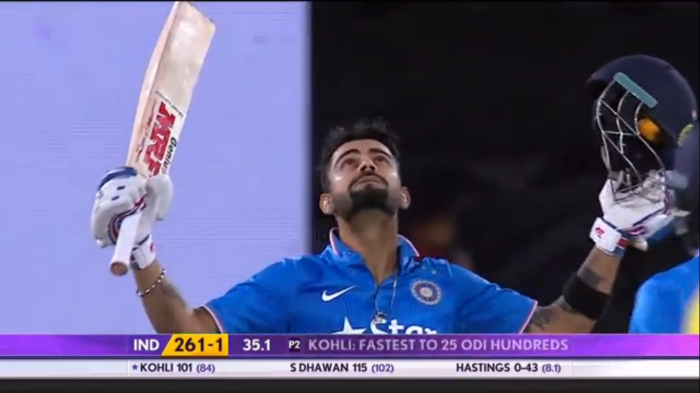 For everyone watching the game live at the Manuka Oval, it was a match that involved sublime batting - for the most. As Australia piled on 348 runs and misery over India in the first innings, few would have predicted the chase that followed.
For 37.3 overs, the Indian run chase was unforgettable for sheer intent itself - that a target of close to 350 could be achieved. From then on, it was possibly one of the most forgettable chases ever.
Till Shikhar Dhawan and Virat Kohli were dismissed in the 38th and 40th overs respectively, the Indians astonishingly brought the run rate down to below 6 runs an over. But then, India lost 5 wickets in the next 5 overs.
It was a strange situation - It was the highest score that India posted in the whole series, but yet as one dissects the match, the batting failed to make the cut.
For in matches involving such high chases, it is often a matter of losing only one wicket for the whole batting line up to come crashing down like a burning building. At the Manuka Oval, it was Shikhar Dhawan's wicket. A tired shot led the ball straight into George Bailey's hands at point, and it was all downhill from there.
MS Dhoni edged the ball back to the keeper in the same over giving Kane Richardson 2 wickets in one over. Virat Kohli and Gurkeerat Mann were next. This was a vintage Indian cricket team of the late 1990's performance, old time viewers would have switched off their TV sets at this point.
But even the optimists were disappointed. An injured Ajinkya Rahane came on to bat, and he helplessly knicked the ball to the keeper after scoring 2 off 3 balls. Rishi Dhawan, Bhuvanashwar Kumar and Umesh Yadav could hardly have helped the cause if the top order couldn't perform their job well.
India were all out for 323 in 49.2 overs. Nine wickets were lost in the last 12 overs. That says enough about the batting performance.
Searching for positives from the Indian batting performance is like searching for a needle in a haystack, but here is one - Virat Kohli became the fastest batsman to score 25 ODI centuries with his 100, doing so only in 162 matches.
Captain MS Dhoni took the blame for the loss in the post match conference, citing his dismissal as a crucial moment in the chase. Sydney beckons for the Indian cricket team on Saturday. A win there is imperative. Otherwise, it will conclude an embarrassing whitewash for the men in blue.