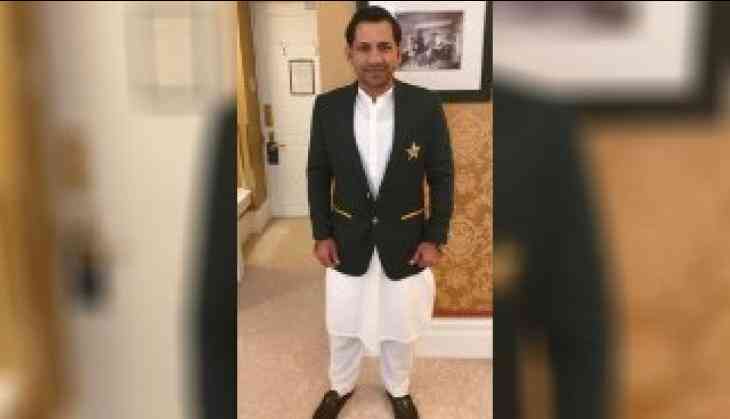 While all the Participating teams captains in the World Cup 2019 looked smart in their suits when they met Britain's Queen Elizabeth II, Prince harry and other Royalties, Pakistan captain Sarfaraz Ahmed stood proudly in their traditional outfit.
Sarfaraz Ahmed attended the Royal meet dressed in a white Shalwar Kameez with Pakistan team's green blazer to back it up. While there were many who appreaciated Sarfaraz for sticking to his roots, there were few critics as well, none more ruthless than Pakistan born Canadian writer Tarek Fatah.
Tarek Fatah trolled Sarfaraz Ahmed for being "dressed in Pyjamas", adding that he was surprised the Pakistan captain"didn't come in his lungi banyan topi costume".

Captains of #Cricket playing nations competing 4 the #CricketWorldCup had a photoshoot with the Queen. Guess who came dressed in his pyjamas? None other than the #Pakistan captain (back row, left). Take a look at him in the other pic. How does one country produce ...? #CricketWC pic.twitter.com/hXxbxrfzlj

— Tarek Fatah (@TarekFatah) May 30, 2019
While many pakistani fans hit back at Tarek Fatha for his comment, there were several Indian fans who came out in defence of Sarfaraz Ahmed.
Indian captain Virat Kohli also met the Queen alongside England captain Eoin Morgan, who was all smiles in the picture tweeted by BCCI.
The ICC World Cup 2019, which is to be played in a round robin format, began yesterday with host England beating South Africa in the first match of the tournament at the Oval, London.
Pakistan, led by Sarfraz Ahmed, will look to draw inspiration form their Champions Trophy 2019 glory and begin their World Cup 2019 on the positive note against the West Indies at the Trent Bridge in Nottingham.
Pakistan were beaten by Afghanistan in the practice match, while on the other hand West Indies looked dangerous scoring over 400 runs against the Kiwis. Pakistan have lost their last ten ODI's including a 5-0 thrashing by Australia and 4-0 thumping by England.