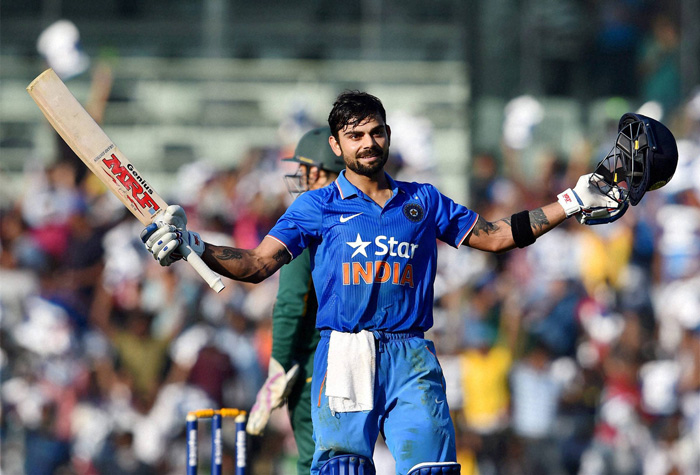 If Virat Kohli has his way, he would always want to bat at number three as India's batting star "feels at home" at that position.
"I am at home at no. 3 because I have played a lot there. I know I have a decent record at no. 4 as well but I only played only 35-odd games, the rest 120-odd I have played at no. 3. That's where I have realised what my game is at the international level," Kohli made his desire clear ahead of the five match series decider against South Africa at the Wankhede stadium on 25 October.
"I am sure and confident at no. 3, where I can stabilise the innings and hold one end so that team can benefit as much as possible. That's always been my mindset even if we look to chase the score.
"If I get in early and bat at no. 3 I have all the option to analyse what's going on in the game, choose bowlers to hit boundaries at different times. I am confident I can control the game better. The whole idea is to give more stability in my mind and look to bat through," said Kohli, who struck a match winning 138 at number three in the fourth ODI after batting at number four to make way for Ajinkya Rahane in the first two ODIs.
On what could be the deciding factor in the crucial game tomorrow, Kohli said: "As far as I am concerned it's going to be the heat. We had played at Rajkot, Chennai and now (are to play) in Mumbai and things are not getting better. It's challenging for both sides.
"It has been a packed series. It's very hectic for guys to play, get to another location, practice and play again. The challenge will be physical as well is mental - it's a big game and it will play on everyone's head. And physical challenge is a major factor," he said.
Kohli said by now both teams are fully aware of what needs to be done to outdo each other.
"Both teams have figured out what needs to be done. It's all about staying a step ahead of the opposition and it's for every individual to figure out how to stay ahead of the opposition," he said.
Kohli said the new ODI rule allowing one extra fielder outside the circle in the last ten overs has made things difficult for the batsmen to concentrate on hitting only boundaries in the sub-continental conditions.
"It has become a little more difficult compared to rules in the past, especially in the subcontinent. Ball is becoming rough and old, there is not enough pace on the wicket and it's difficult to hit boundaries or get the ball away with one extra fielder outside.
"I don't think it will be difficult outside the subcontinent because it may not be such a bad thing to rotate strike, take less risk in hitting boundaries. It's exactly what I did in the last game (when he made a glorious 138).
"It needs more mental preparations to run than hit boundaries and that's what I tried to do, tried to keep dot balls to minimum. Rotating strike more and relying less on boundaries requires a bit of mental discipline."
The mood was upbeat in the Indian team after winning the Chennai game on October 22 and staying alive in the series, said Kohli.
"The mood is good after winning the last game which was very important for us. We had not played collectively good cricket before the last game. As (captain) MS (Dhoni) has mentioned in the past as well, everyone has been batting well.
"Because of these rule changes, sometimes you go out there and sometimes you are not able to hit boundaries and you don't know what is to be done. We figured out what to do and we were able to execute that which is always a confidence-booster."
He also backed outperforming Shikhar Dhawan. "Everyone will not get runs in every series. You will have only 1-2 big scorers. He's been tremendous for us in one-day cricket for a long period. If you see the World Cup it was a high pressure tournament and this guy stood up. He's very confident of his ability and is someone who, when he gets going, can take the game away from opposition. That's why we show so much faith in his ability. He has that different sort of a mentality; when he gets going he keeps attacking, which is a rare quality.
He said he would not want to talk about South Africa's record in big games and also felt it was not correct to see the game as a forerunner to the Test series to follow.
"I will not like to analyse how South Africa plays in big games. We will focus on our game and not be complacent. The off time you have in between series is very important. Test series will have different sets of players, a different format. You don't want to be too happy or too low after tomorrow because a big Test series is coming up. I will not like to connect that."
-PTI