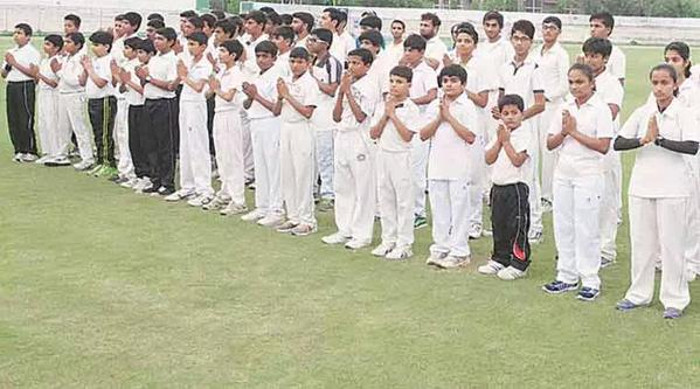 As Team India gears up to take on South Africa in the third One-Day International (ODI) on 18 October, fifty boys and girls from Rajkot stood with folded hands appealing to Hardik Patel's Patidar Anamat Andolan Samiti (PAAS) against using the upcoming cricket match as a platform to stage a protest for the ongoing reservation agitation.
The appeal by the young cricket aspirants came after the Saurashtra Cricket Association (SCA) officials alongside numerous Ranji players failed to persuade PAAS against their planned move. The SCA insists that the 'prayer for peace' idea was floated by the young cricketers themselves. And all that cricket officials did was just ask them to stand in neat rows, called photographers and shared the frames with the media.
According to a report in The Indian Express, SCA media manager revealed: "The young cricketers told our head coach that they would like to formally request Patidars not to use the ODI as a platform for their agitation. He agreed and allowed them to make the gesture."
Veteran BCCI administrator from the region and SCA secretary Niranjan Shah called it an "emotional request". "Badon ka nahin maane, bachchon ka toh sun lo (You didn't heed the request of the elders, at least listen to the children). We are requesting them not to bring politics to the cricket field," he said.
Former junior cricketer-turned-politician Hardik Patel had voiced his opinion to use the high-profile India vs South Africa cricket match as a platform to highlight their demands of quotas for the Patidari community. His followers were also planning to buy around 10,000 tickets in order to make their presence felt during the upcoming day and night clash.
After Patel made his intentions clear, the SCA media manager said: "Anyone interested in buying tickets will have to submit ID proof along with contact details," Niranjan Shah said. He said rumours were adding to the confusion. "The Patidar Samaj claims they have got tickets for the ODI but let me make it clear that until now, not a single ticket has been sold."
On the other hand, Niranjan Shah revealed that he is counting on the police to ensure that the cricket match is not disrupted. "The consequences of a protest will be very bad. SCA might be banned from hosting any international game in the future," he said.