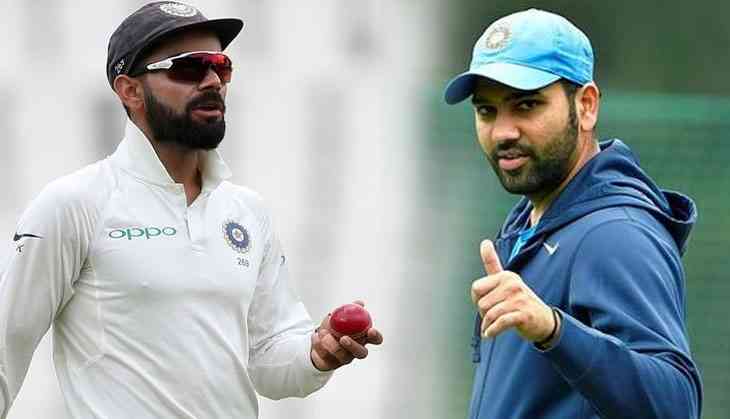 The run-machine Virat Kohli has been criticised for his chopping-and-changing policy when it comes to picking the India's playing XI.
Rohit Sharma supports Virat Kohli's rotation policy while players also realised that changes are made are for the betterment of the team.Due to his string of poor performance he was not picked up for the England side.
The third Test match between India and England will start from 18th August at Trent Bridge.
Indian skipper Virat Kohli took over as captain from MS Dhoni in 2014. Kohli has led the side in 37 Tests and tried different playing XI in each of those matches.
At a promotional event in Mumbai the Indian batting star Rohit Sharma cited to mediapersons that "Look, I have never been offered (to open the innings in Tests) yet but I am open to anything as in whatever the team management wants.
"I never thought I will be an opener in ODIs when I started playing or when I was playing for India. But it happened along the way, so I (want to) keep my options open. No option is shut for me, so if the opportunity comes, I will take it", according to the reports of DNA.
Further Rohit cited that "I want to be part of the (Test) team, but it is not in my hands. I have to wait for the opportunity, whenever it comes, I have to be ready for it. To be ready, I am doing everything, training, doing as much as possible to give myself the best chance when the opportunity comes there.".
"Yes of course, we have to believe that we can do it. It's not going to be that easy. We have done it in South Africa we lost the first two Test matches and then we bounced back in Johannesburg and won that Test match," Rohit, the brand ambassador of Conekt, said at the launch of company's products.
"I think we can do it, it's not that we can't and we won the Test match. We have won Test matches in England before, we just need to get in that mindset, how we won the Test matches in England on previous tours and we have to play like that," said Rohit.
"There are still three Test matches to go, and I think it can turn around if we have the belief that we can do it," he noted.
Also Read: Atal Bihari Vajpayee dies: Here's how sports fraternity including Virender Sehwag pays homage to former PM