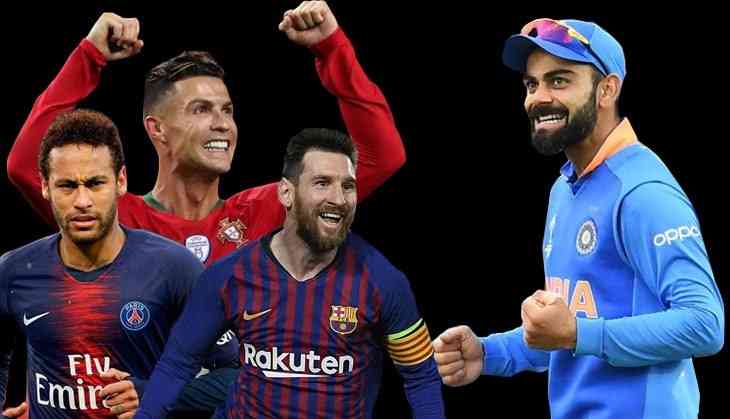 Indian captain Virat Kohli is the only cricket who remains in the Forbes list of world's highest-paid athletes with estimated annual earnings of 25 million dollars. However, the Indian cricketer has dropped 17 ranks to be on 100th position on the list.
Virat's large chunk of earnings come from brand endorsement which is around 21 million dollars while 4 million comes from his salary and winnings, which takes his tally to 25 million dollars. Virat was ranked 83rd on the list last year and despite a million dollar increase in his earning he dropped to 100th position this year.
Barcelona star and Argentina footballer Lionel Messi tops the list with earnings of 127 million dollars, Messi dethroned boxer Floyd Mayweather to become the highest-paid athlete in the world.
Messi's closest rival and Portugal footballer Cristiano Ronaldo is second on the list with 109 million dollars. While Brazilian footballer Neymar grabbed the third spot with 105 million dollars in earnings.
Tennis legend Roger Federer, American football sensation Russell Wilson, NBA stars LeBron James, Stephen Curry and Kevin Durrant are other sports personalities in top 10 of the list.
Virat Kohli is currently leading his side in World Cup 2019 which is being held in England and Wales. Virat Kohli-led team India has won both their matches of the tournament so far and will lock horns against New Zealand on June 13.
Also read: Video: Man sells bhelpuri during India vs Australia World Cup match; Indians call, 'British bhelpuri wala'