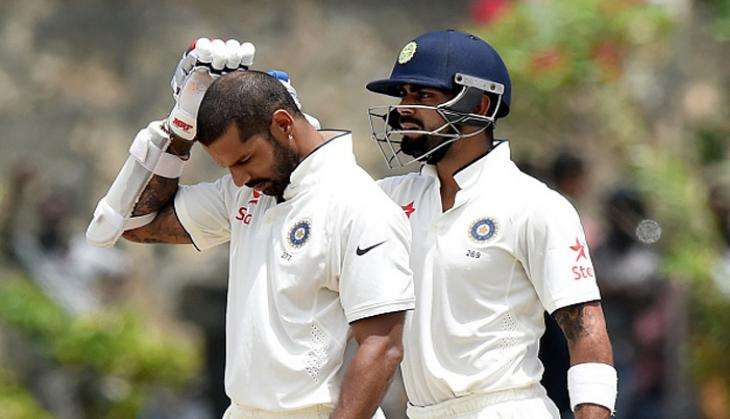 Weighing in on the debate about the opening batting slot, India Test captain Virat Kohli strongly hinted that Shikhar Dhawan could be picked ahead of in-form KL Rahul for the opening match against the West Indies in Antigua starting on 21 July.
"If you speak about KL Rahul and someone like Shikhar, it's very difficult to take a call up front, in the first match of a series, because someone like Shikhar is a very dominant player, he can dominate sessions and bring you into the Test match, especially in conditions like West Indies," Kohli told reporters on the eve of the first match at the Vivian Richards Cricket Ground.
"You saw how he played in Sri Lanka, he scored a very quick hundred, but got injured unfortunately, but that's what I mean. You can't count out a guy like Shikhar because of a couple of innings here and there. So we need to give guys a decent run, and know that if something goes wrong, we have a quality player like Rahul waiting in the wings and he's as solid as anyone in world cricket right now, and he'll do a good job whenever he gets a chance," the skipper added.
Having scored two half-centuries in warm-up games, the 24-year-old Rahul made a strong case for himself before the first Test as he continued his scintillating form which he displayed during the preceding limited-overs series in Zimbabwe last month.
Describing the dilemma as a 'very strange situation', Kohli, however, assured that openers will get equal opportunity in the four-match series.
"It is a very strange situation because in international cricket, you need to understand one thing that you cannot count players out because of one series," he said. "If you're talking about KL Rahul, obviously he's improved leaps and bounds as a cricketer in the last 3-4 months. He's established himself as the third opener for India, he's a regular in the Test side, he played in Sri Lanka as well, scored runs there.
"But that's one call you need to take as a captain, and that's why they say the job is never easy. It's just that, whoever starts a Test series, he has an edge over [the player] who has to wait for his chance, but at the same time, we have four Test matches and you will get a chance at some stage."