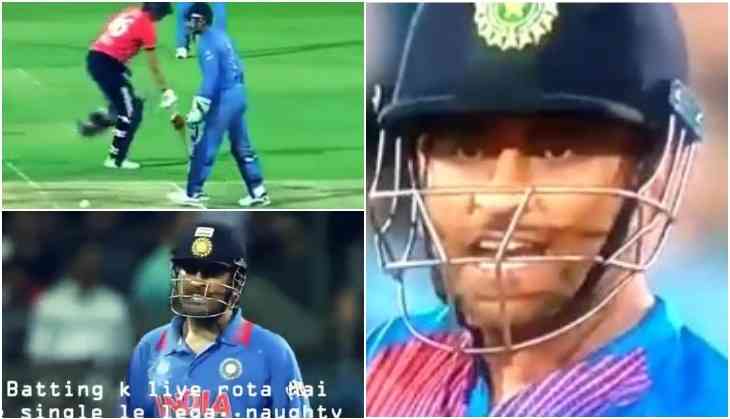 Ind vs SA: MS Dhoni abuses Manish Pandey; 5 times when 'cool' wicketkeeper lost his temper and made headlines
Former Indian cricket team skipper MS Dhoni is somehow famous for his cool temperament and cool behaviour even in tough conditions, but like everyone, there were some moments in his career also came when he lost his coolness. There was some time when captain cool MS Dhoni came into anger and misbehaved with players, umpires and others also.
Here we are going to tell you that five incidents when MS Dhoni lost his temperament and it became a headline.
Also Read - IND v SA: Do you know? 'Sixer King' MS Dhoni made a brilliant record in the second T20I
1. In 2015 Indian went to Bangladesh for three ODI series and in the first match, the team got the target of 309 runs the biggest chase. Bangladesh bowler Mushtafir Rahman came to bowl in the 25th over and it was his first ODI match. Dhoni was batting and when he came to run then Rahman came in the mid of his running that affected Dhoni from having run. Dhoni in anger pushed him very high that Mushtarfir Rahman got to fall down. In this incident, Dhoni gave his 75 percent and Mushtafir gave 50 percent match fees.
2. Fans also saw Dhoni's anger when the team was in Australia in 2012. In one of the ODI of this series, Mike Hussey was batting in 29th over then Suresh Raina stumped him and appealed for out. The third umpire gave him out and even Hussey was going out of the ground but ground's umpire calls him back. Dhoni in anger had a fought with umpires also.
3. In 2016, Dhoni got angry at a reporter while series ongoing in between India and Bangladesh. India won T-20 match and after in the press conference, some journalist asked him about his slow run rate. On this question Dhoni got upset and asked the reporter back, I think you are not happy with the Team's win.
4. In 2011 world cup final match, MS Dhoni played a brilliant knock of 91 runs but there was a moment when India needed 21 runs on 21 balls to win the world cup. In Nuwan Kulasekara's bowling Dhoni wanted to take a single run but non-striking batsman Yuvi denied it. Dhoni was very much angry and he even shouted at Yuvi in anger.
5. In one of the matches against England, Chahal was bowling and there was a time when both the striking batsman were supposed to get run out at the same time but Chahal's side had a major gap between batsman and wicket. However, despite that Chahal threw bowl towards Dhoni and the run out got aborted. Dhoni straightly abused Chahal on this incident.