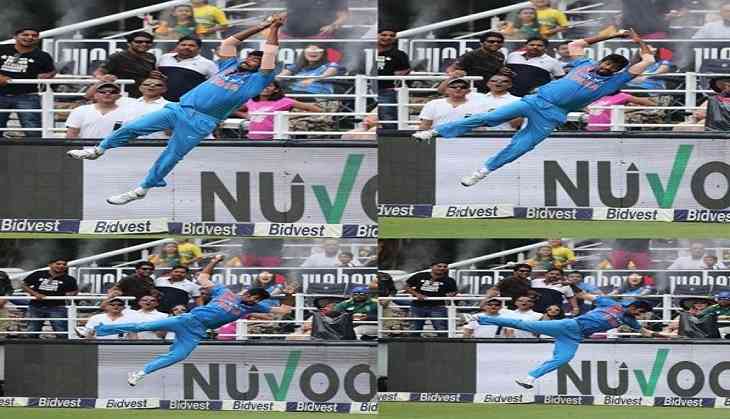 IND vs SA: Jasprit Bumrah's high jump saved a sixer and Umpire gave a six instead; Here's Why
The Indian cricket team gave a tremendous start by winning the first T20 International against South Africa. Earlier Men in Blue won the ODI series against South Africa in their home ground.
The smashing performance of Indian batsman Shikar Dhawan in the first T20 International and we cannot forget our brilliant Indian ballers who dismissed the South Africans at 175/9. The Indian team successfully chased 203 runs and won the match with 5 wickets in hand.
Indian cricket teams fielding has been vastly improved in recent times, and that can be proved in a single example from the first T20i.
The mindblowing fielding of Jasprit Bumrah is making headlines. In the first bowl of the seventh over, the bowl edged the but of David Miller, that was confirmed to hit a sixer. But, in a while, Jasprit Bumrah took a very high jump and stop the ball, threw it inside the boundary saving six. This great save by Bumrah gave reason to the Indian crowd to celebrate the sixer that was saved.
But, unfortunately, the field umpire asked for the third umpire before making a decision and gave it a six. It was very shocking for the fans that when in this friction of seconds Bumrah touched the boundary rope and it became a successful six.
Airborne BOOM! How's that for an effort at the boundary ropes! #SAvIND pic.twitter.com/dz4ubi4qiV

— BCCI (@BCCI) February 18, 2018
The Scene was replayed and it was found that the very moment when Bumrah jumped to catch the ball was the time his feet touched the boundary cushion. So as per the rules, when Bumrah got in contact with the ball, his field position was boundary cushion and thus, it was given a six.
Brilliant effort by Bumrah. pic.twitter.com/xRNbE5koh0

— Alauddin Khilji (@AlauddinKhilj10) February 18, 2018
However, Bumrah may not have been able to save the six but his master jump has won our heart.