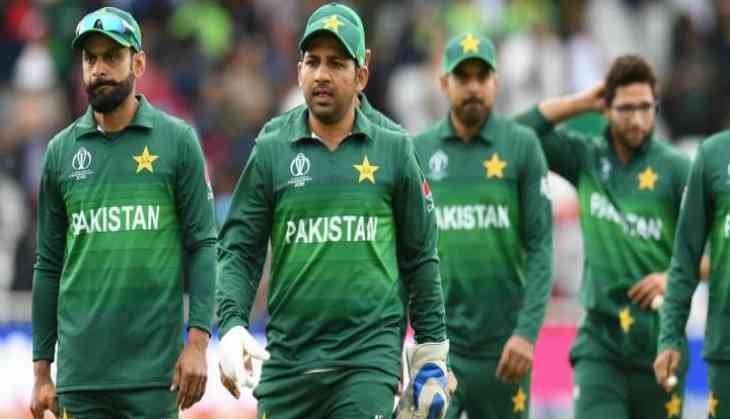 ICC on Friday tweeted about Pakistan's chances of making into the last four of the World Cup 2019, which created a bit of a stir on social media.
Pakistan put up a total of 315/9 in their stipulated 50 overs against Bangladesh in their last group stage match of the ongoing World Cup. They required to bundle out Bangladesh for seven runs or less to qualify for the semi finals and the Bangladesh opener wiped out that improbable chance within the first two overs.
In the course of mid innings break, the International Cricket Council (ICC) tweeted the number of runs the Bengal tigers will have to be bowled out for with a GIF that was a clip from the Hollywood movie "Dumb and Dumber" which had Jim Carrey saying, "So you're telling me there's a chance?"
AlsoRead:http://www.catchnews.com/cricket-news/sania-mirza-s-emotional-message-to-husband-shoaib-malik-on-his-retirement-166067.html
Pakistan need to keep Bangladesh to 7 or below to qualify for the #CWC19 semi-finals...

Pakistan fans right now:#PAKvBAN | #WeHaveWeWIll pic.twitter.com/KuBVraJXHo

— ICC (@ICC) July 5, 2019
The tweet was followed by the fans accusing the ICC of trolling the Pakistan cricket team and its supporters. A lot of conspiracy theories were also posted in the reply section, Including that ICC and the big teams like India, England and Australia have conspired to get Pakistan out of the World Cup and that ICC's Twitter account was handled by Indian fans.
After making a dismal start to the World Cup 2019, the men in green put up a great fight to come close to qualifying for the last four. After they won Australia and New Zealand, fans and comentators started drawing similarities with Pakistan's 1992 campaign, where they ended up lifting the World Cup under the captaincy of Imran Khan.
However, India's defeat to the host England took Pakistan's chances of qualification out of their hand.
AlsoRead:http://www.catchnews.com/cricket-news/ms-dhoni-s-birthday-what-celebrities-had-said-about-dhoni-in-past-166051.html
http://www.catchnews.com/cricket-news/rohit-sharma-virat-kohli-on-the-brink-of-breaking-major-milestones-166042.html
http://www.catchnews.com/cricket-news/here-s-what-ms-dhoni-has-to-say-about-his-retirement-166036.html