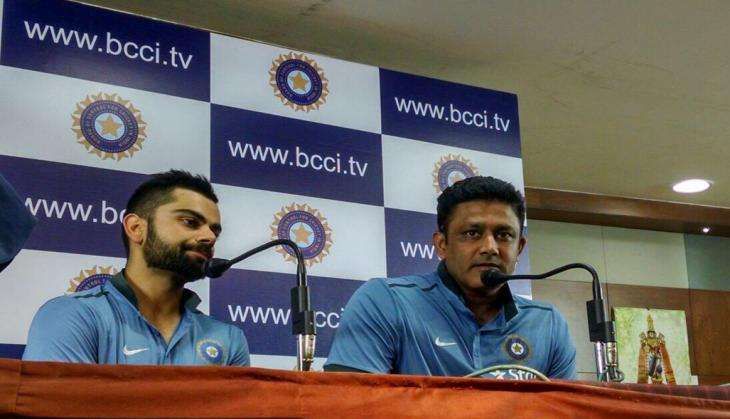 Team India's new head coach Anil Kumble on 4 July revealed that he will not curb Test captain Virat Kohli's natural instinct of aggression.
While talking to the media during a press conference in Bengaluru ahead of India's tour of West Indies, the spin maestro said: "I love Virat's aggression. I was aggressive myself. I will not curb someone's natural instinct."
The Indian cricket team is scheduled to lock horns with the Windies in four Tests. The first Test is slated to begin from 21 July in Antigua, while the fourth and final Test will be played in Trinidad between 18 and 22 August.
Ahead of the tour, Team India underwent a six-day training camp in Bengaluru's National Cricket Academy. The sessions were divided between nets, skills training and team bonding activities.
Praising Kumble's presence at the training camp, Kohli said: "It was great to have Anil bhai with us. His experience counts a lot for us and the bowlers were feeling his presence very much."
Kumble, who was recently appointed India's new head coach after a careful selection by the BCCI, faces a stern test on his maiden international assignment. But, the former Indian captain sounded confident while saying that India were expected to win the series.
"There may not be many who have played in the West Indies before, but we have the experience," he said.
Though India is yet to appoint a separate bowling coach, Kohli believes the availability of Kumble - former leg-spinner and India's highest wicket-taker - was good enough for the bowlers in the squad.
"The bowlers will have someone to fall back on," Kohli said. He also labelled the upcoming series as a perfect opportunity for the team to challenge itself.
"We have a long season ahead and it is important to find out how we play Test cricket in the next year. We are not playing for the rankings. It's not in our control," Kohli concluded.