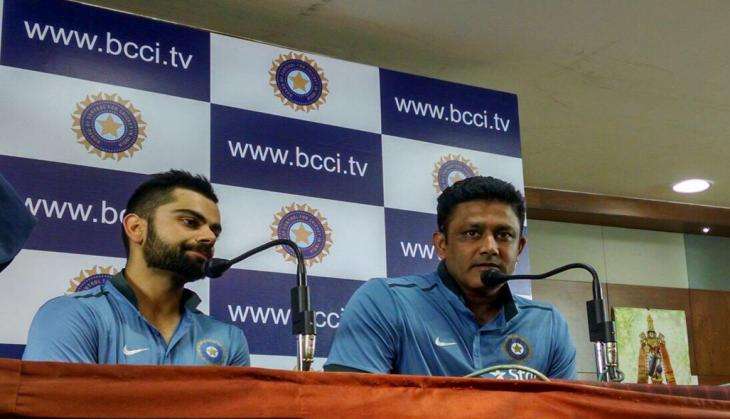 With all eyes on new head coach Anil Kumble, the Indian cricket team is getting a glimpse of his strong work ethics and strict routine aiming to achieve the Caribbean triumph.
The spin maestro, who had recently supported Test skipper Virat Kohli for his aggressive approach, has founded 'Fine Committee' to instill discipline in the Indian squad. Kumble has told his players that they will now have to cough out 50 USD for coming late.
Indian seamer Bhuneshwar Kumar has been named chairman of the committee, while Test specialist Cheteshwar Pujara has been tasked to collect fines from the latecomers. Apart from Bhuvi and Pujara, opening batsman Shikhar Dhawan is also a part of the committee.
"We have a Fine Committee now," Bhuvneshwar, the chairman of the committee, said on Saturday July 16. "It's mostly related to punctuality. Some rules are there - if you are not on time for something, then you have to give a fine. I'm the chairman, Pujara will collect the fines, and Dhawan will take the appeals of those who feel they've been fined wrongly.
We've had a trial run so far, but the committee's work actually started yesterday. No one has been fined yet. It's difficult to say who will give the most fines, it depends on punctuality and a lot of other things. Whatever we collect, it will go to charity. We have not yet decided which charity and so on, but that will be decided soon," Bhuvneshwar added.
Apart from the 'Fine Committee', Kumble has also reintroduced the 'buddy system' to strengthen the players. According to the system, Indian players will be divided into groups to help each other overcome their weaker suits.
Team India will begin their four-match Test tour on 21 July when they take on West Indies in the first match at the Sir Vivian Richards stadium in Antigua.
A 4-0 whitewash against the Windies could propel the Kohli brigade to the top spot in Test rankings. It will also place the Indian team in a good position ahead of the home tours in the winter, where they will play 13 Tests against the likes of England, Australia and New Zealand.