Rohan Raj
| Updated on: 13 February 2017, 3:19 IST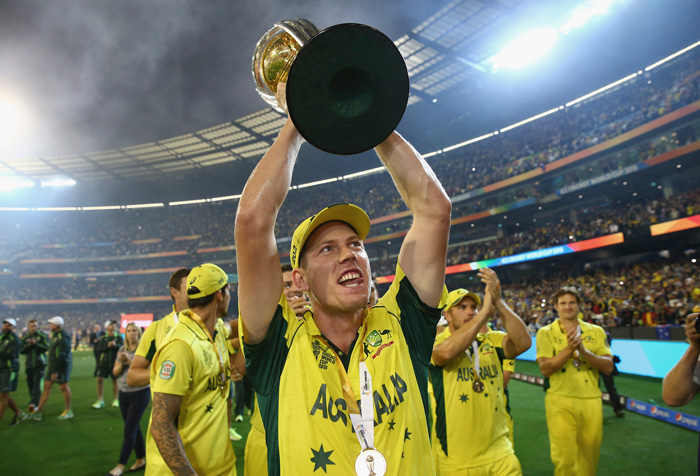 If losing the first Test at Cardiff to their arch-rivals wasn't enough, the touring Australian brigade was left red-faced after their star all-rounder James Faulkner was arrested for drunk-driving on 2 July.
Faulkner, who was Australia's Man of the Match in the 2015 World Cup final, has been suspended for four international matches and will not be considered for the limited overs matches that follow the Ashes. The Australian cricketer, who was playing for Lancashire, crashed his vehicle after a night out of drinking in Manchester with his Tasmanian teammate Tim Paine.
Faulkner was found to have been more than twice over the legal blood alcohol limit and spent the night in the custody of Manchester police. Though he was released on bail, Faulkner will face the court on 21 July.
His suspension is surely a blow to the tourists, though it is good news for the English team who are looking to maintain their good runs in the short formats, that begun against New Zealand earlier this year.
Here's a look at some of the other incidents where cricketers embarrassed themselves after getting drunk:
David Warner's bar brawl
The Australian team was in England for the ICC Champions Trophy in 2013 when their star-batsman David Warner punched an opposition player, Joe Root, in the Walkabout bar on Broad Street in Birmingham. Warner was drinking Ja'ƒgerbombs and vodka Red Bulls, when he punched the English player following an altercation in the bar. A row over a fake beard, perceived as an impersonation of Hashim Amla, triggered Warner's assault on Root.
The English player, accompanied by Stuart Broad and Steven Finn, took a green and gold coloured wig off the head of Warner's mate, before using it as a beard. Considering Root's actions inappropriate, Warner went up to their table and decided to defend his friend before punching Root on the chin when he retaliated. Warner was suspended until the first Ashes Test on 10 July 2013 and fined 7,000 pounds after the incident. "I'm extremely remorseful. I have let my teammates, the fans, myself and my family down," Warner later apologised for his antics.
England players share drunken kisses
During the 2007 World Cup in West Indies, England's cricket stars James Anderson, Jon Lewis, Liam Plunkett and Ian Bell downed spirits and beer during an eight-hour bender - just 24 hours before their match against Canada. According to DailyMail, the players drunken kissed each other at the Rumours club in St Lucia's Rodney Bay during their drinking session which started from 11:30 pm and continued till 5 am. The England and Wales Cricket Board (ECB) levied a hefty fine on the four players.
While his teammates went back to their rooms at the Rex St Lucian Hotel, Andrew Flintoff brushed past a security guard and dragged a pedalo out to sea. He had to be rescued by the hotel staff after the pedalo capsized around 4 am. He was also a part of the eight-hour drinking binge that took place at the Rumours club. Flintoff, who was stripped of the vice-captaincy and suspended for a match, later apologised in a press conference for his misbehaviour.
Monty Panesar urinates on nightclub bouncers
In 2013, England spinner Monty Panesar's drunken antics shocked the world of cricket and fans alike. The English cricketer of Indian origin was partying at the Shooshh club in Brighton's beachfront, which was hosting a Gay Pride event. However, he was asked to leave the premises after a group of women complained he was harassing them.
Panesar then proceeded to the promenade above the club and relieved himself on the bouncers, who chased him until he was finally cornered in a nearby pizza parlour, where he was heard shouting "Help! Help!." After securing him in an arm-lock, the bouncers hauled him back to the club and called the police. He was later fined by the police for being drunk and disorderly in public. Earlier in January 2011, Panesar was held and questioned by police after an argument with his wife in a pub car park.
Sri Lankan cricketer tries to open a door of a mid-air flight
In July 2013, Sri Lankan A- team opening batsman Ramith Rambukwella sparked a panic among 229 passengers on-board the St Lucia to London Gatwick flight as he tried to open the door of the aircraft mid-air. The British Airways crew and his teammates rushed down the aisle and calmed the 21-year-old cricketer as he was made to realise his mistake.
The Sri Lankan player, who had been drinking, left his seat and confused the cabin door for the toilet in the plane's dim lighting. The Sri Lanka A-team was travelling back home, via England, after being defeated by the West Indies in a five-match ODI series. The Sri Lankan cricket board, that was left red-faced after the incident, took disciplinary action against the player