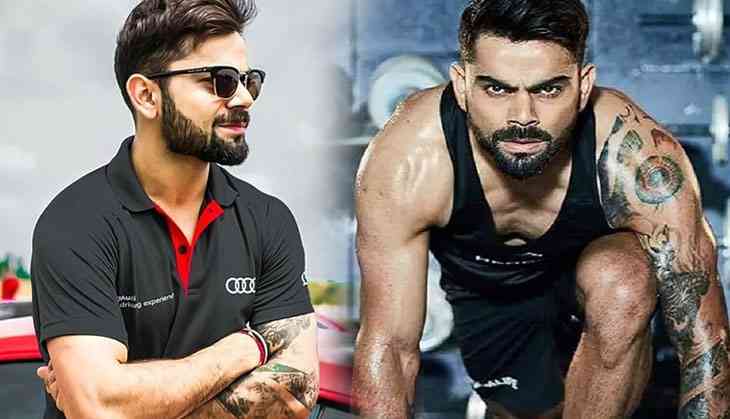 Indian skipper Virat Kohli is a youth icon, known not just for his brilliance, commitment and passion in the cricket world but also for his sense of style and great taste in fashion.
Virat Kohli appeared on the cover of August issue of fashion magazine GQ India in which he made a comment on his tattoos.
When England skipper Joe Root got run out when VIrat Kohli's throws directly hits the stumps. It proved that game doesn't look tattoos, it looks at commitment on the ground.
Virat Kohli's men are playing their first game of five test match series. India made a superb comeback after the lunch and restricted England to 285 runs with 9 wickets down.
As reported in Tribune website Virat Kohli cited that "(When I started out), I was judged a lot. I would get constant feedback about my appearance. The perception was that a person like me would only be a flash in the pan."
Further Kohli added "But the truth is if you work hard, the game will give back. The game doesn't look at tattoos, it looks at commitment."
"If you have tattoos, earrings or styled hair, you're not stopped (at the junior levels) just because you're flamboyant. It's not like, if I style my hair or have tattoos, I won't dive on the field because it'll get spoiled," Kohli said.
"For me, winning is like an obsession. I've started to accept losses only now, but earlier, I would just go mad (when I lost)." But now instead of obsessing over winning every time, Kohli is learning to enjoy the responsibility he shoulders.
The 29-year-old Virat Kohli said that "I realise now this is not just about me working hard and doing something on the field, but also about seeing the larger picture. That I have this opportunity to do something special for my country."
Also Read: Imran Khan Oath Taking Ceremony: Imran Khan invites bollywood star Aamir Khan and former Indian cricketers