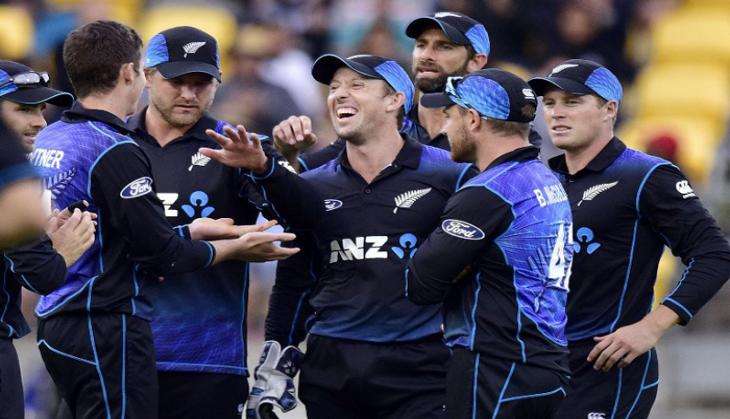 Photo: Marty Melville/AFP
New Zealand skipper Kane Williamson lauded his bowlers for drying up the runs during India's chase in the second ODI, terming Mahendra Singh Dhoni's brilliant return catch by Tim Southee as a "big moment" in the match.
When asked about how the bowlers and fielders responded while defending a low total, Williamson said: "Someone like MS Dhoni, he can finish matches when he is allowed to play his shots. He is the best in the world. That catch was big for us."
Williamson was happy with the manner his bowlers responded on a tricky surface and also gave an insight to how some adjustments led to the Indian skipper playing 37 dot balls.
"On this kind of a surface (Kotla), scrapping was important. You needed to put the ball in areas where it's tough to get away and try and build that pressure. It was an extremely good effort considering that the ball was damp due to dew factor."
Dhoni was cleverly stopped as the pushes for singles and doubles through the cover and extra cover region were stopped keeping a double cover in the region.
"We tried to make adjustments out there. The ball was going to cover more. So we put an extra fielder there. Sometimes thats how you adjust to the surface and adapt.
"The ball was damp and they did great job with small boundaries. We were fortunate pick (regular) wickets and play consistently which allowed us to rotate our spinners but credit to how our seamers bowled."