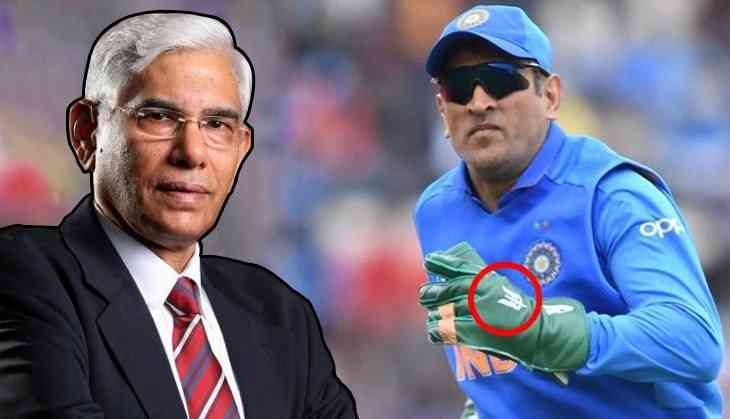 As soon, team, India defeated South Africa in the first game in World Cup 2019 on 6th June, Indian fans noticed special glove wear by MS Dhoni in the game. MS Dhoni who is known to support Indian Army at many occasions was spotted regimental dagger insignia of the Indian para special forces.
While one hand, when Indian cricket fans supported and lauded the former team India captain, but the issue actually turned into a controversy when ICC (International Cricket Council) asked BCCI to remove the symbol. Claire Furlong, ICC General Manager - Strategic communications, said that the apex body has asked Indian cricket board to remove the sign. "It is against the regulations and we have requested it is removed," Furlong said.
🇮🇳🇮🇳#TeamIndia pic.twitter.com/C4DHUraMRA

— BCCI (@BCCI) June 5, 2019
Well, now reacting to ICC's order to remove the symbol, COA (Committee of Administration) chief Vinod Rais said that they are in support to their player and he did nothing wrong as the symbol is not religious or commercial. Vinod Rai also told that BCCI will seek permission from ICC.
Indian Army has always been independent irrespective of the political party in power. We are proud of them. Lt. Col. @msdhoni has worn the Army insignia as a symbol of pride. Doesn't hurt anyone's sentiments, In fact it honours the brave #DhoniKeepTheGlove #WorldCup2019

— Riteish Deshmukh (@Riteishd) June 7, 2019
We all know that @ICC is doing it on the sayings of Pakistan, ICC not Messed With Indian, So much value of a poor Pakistan board, but no value of the richest board, @KirenRijiju Sir Please Take Stand, We do not trust the greedy board like the @BCCI #DhoniKeepTheGlove #MSDhoni pic.twitter.com/4BQ1kACEXI

— Rishabh Singh (@Rishabh_Smarty8) June 7, 2019
We are with you always Mahi Bhai #MSDhoni #DhoniKeepTheGlove pic.twitter.com/BCP2L8pCSZ

— Dr Sachin Mapari (@dr_sachin_rm) June 7, 2019
Retweet if you want MS Dhoni to keep "BALIDAAN BADGE" on his wicket keeping gloves!🇮🇳 #DhoniKeepTheGlove #MSDHONI pic.twitter.com/YLSTRdI3dO

— MS Dhoni Fans Official (@msdfansofficial) June 6, 2019
As ICC ordered Dhoni to remove the symbol, the Indian cricket fans gets massive support and fans are saying that Dhoni has not done anything wrong. Meanwhile, now team India will play their second match in World Cup against Australia on 9th June.