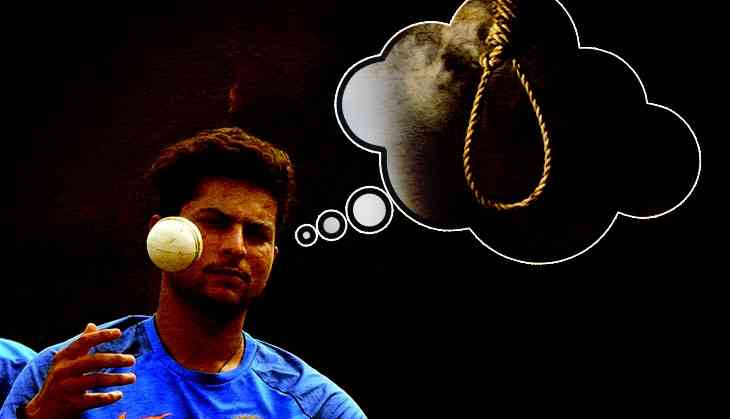 In the three match T20 series Virat Kohli's led Indian cricket team claim their first victory with the help of Kuldeep's magical spell and KL Rahul brilliant ton.
The life of young chinaman bowler is quite simple. Despite having massive fan following he loved to be called Kanpur lad. In every individual's life there's a moment when we decided to give up the things or commit sucide after witnessing couple of failures.
Things gone same in the life of Indian wrist spinner Kuldeep Yadav when he was not selected in Uttar Pradesh U-15 squad. He want to quit the game but it depends on destiny where it throws you.
As quoted in Hindustan Times website, the 22 year-old Kuldeep Yadav cited that- he had made up his mind not to pursue the game again, ever. "I had worked hard for my selection, but when I was not picked, I mentioned suicide in frustration. It happens to everyone in the heat of the moment."at Hindustan Shikhar Samagam.
"I was a meritorious student in school and wanted to play cricket just for fun. I never thought of making it my vocation. In fact, my father wanted me to play cricket and took me to the coach," cited Kuldeep Yadav
"I always wanted to become a seam bowler, but my coach forced me to become a spinner. When I bowled a few balls (Chinaman), I was asked to make it a habit. Otherwise, I didn't know I was bowling something different," Kuldeep cited.
"PS4 is my favourite (video) game and it helps me understand and solve the problems of life. I don't stop thinking about the game even when I am home and enjoying my mother's home-cooked food."
Also Read: Virat Kohli's men ragging Krunal Pandya and Deepak Chahar is the funniest thing on the internet today; watch video
England (Playing XI):
Jason Roy, Jos Buttler(w), Alex Hales, Joe Root, Eoin Morgan(c), Jonny Bairstow, Moeen Ali, David Willey, Adil Rashid, Chris Jordan, Liam Plunkett
India (Playing XI):
Rohit Sharma, Shikhar Dhawan, Virat Kohli(c), Suresh Raina, Lokesh Rahul, MS Dhoni(w), Hardik Pandya, Bhuvneshwar Kumar, Kuldeep Yadav, Umesh Yadav, Yuzvendra Chahal