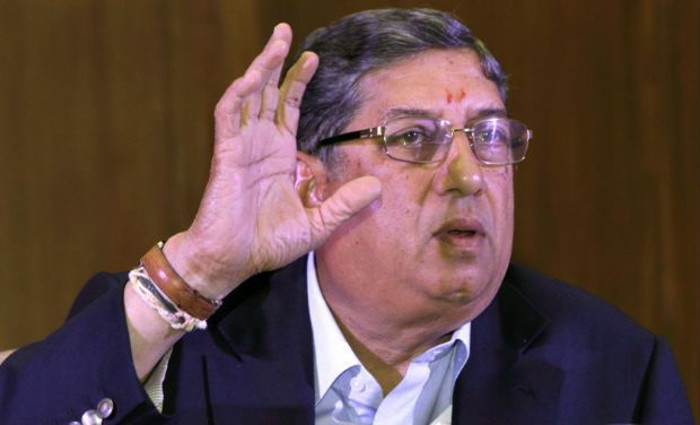 The Board of Control for Cricket in India (BCCI) secretary Anurag Thakur's writ petition in the Supreme Court has revealed that the real worth of the embattled Chennai Super Kings is actually Rs 1,140 crore, much higher than Rs 8 crore as claimed by N Srinivasan.
The Indian cricket board had filed a 238-page petition in order to get clarity about whether its former president N Srinivasan should be allowed to attend the Board meetings.
The BCCI secretary revealed that according to an audit in February 2014, Chennai Super Kings' approximate brand value is $722 million (Rs 455 crore, according to American Appraisal). Since the brand value is normally 40 per cent of the entity, the value of the Chennai franchise will be in the region of Rs 1,140 crore.
"What is shocking is that the transfer of the franchise (to CSK Cricket Limited) is stated to have been carried out for Rs 7.83 crore. The BCCI is deprived of the benefit of the true value of the 5 per cent share which would be in the region of Rs 57 crore," Thakur said in his submission.
According to Mumbai Mirror, Thakur also contends that Srinivasan continues to stay conflicted and hence should be prevented from attending the meeting of the BCCI - something the Chennai strongman attempted on August 28.
"A clarification has been necessitated on account of the fact on August 28 when a working committee meeting of the BCCI was being held in Kolkata, Srinivasan barged in and insisted upon attending the meeting," Thakur said while seeking clarification on Srinivasan's position.
"He claimed that he had restructured the ownership and control of the Chennai Super Kings so that there is no more conflict. An examination of the restructuring said to have been under taken by Srinivasan would show that, step by step, transactions have been undertaken while Srinivasan continues to control the CSK franchise. It is obvious that, on the basis of his claim, BCCI is going to face serious problems in holding meetings. Hence the need for this Hon'ble court to clarify," he added.
On the other hand, the some of the BCCI members claimed that Srinivasan was no longer conflicted and Thakur had raised the issues of CSK valuation and Lodha Committee judgement which were not discussed at the working committee.