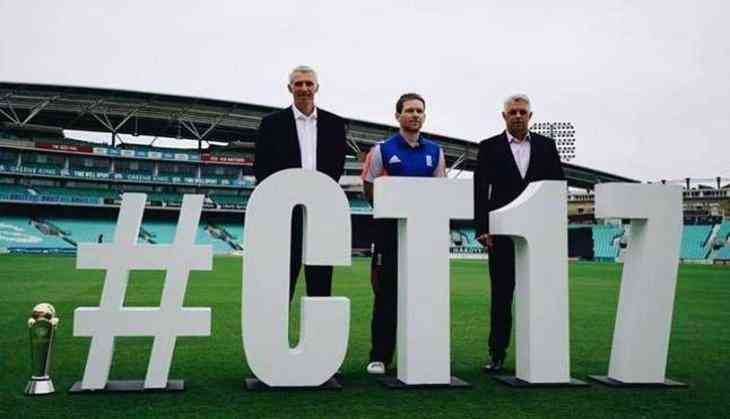 The Champions Trophy which is popularly known as "Mini world Cup" is just around the corner and the eight teams are gearing themselves for the much-awaited tournament.
The tournament will begin from June 1 and will be played for the third time in England.
India, the defending champion is set to face its arch-rival Pakistan on 4 June.
Below is the schedule of the ICC Champions Trophy 2017 –
Group A: Australia, England, New Zealand, Bangladesh
Group B: India, South Africa, Sri Lanka, Pakistan
Date: June 1
Match: England vs Bangladesh
Time: 15:00 hrs IST
Venue: Kennington Oval, London
Date: June 2
Match: Australia vs New Zealand
Time: 15:00 hrs IST
Venue: Edgbaston, Birmingham
Date: June 3
Match: Sri Lanka vs South Africa
Time: 15:00 hrs IST
Venue:Kennington Oval, London
(Read | ICC Champions Trophy - Tournament History (From 1998 - 2013)
Date: June 4
Match: India vs Pakistan
Time: 15:00 hrs IST
Venue: Edgbaston, Birmingham
Date: June 5
Match: Australia vs Bangladesh – (D/N)
Time: 18:30 hrs IST
Venue: Kennington Oval, London
Date: June 6
Match: England vs New Zealand
Time: 15:00 hrs IST
Venue: Sophia Gardens, Caridff
Date: June 7
Match: Pakistan vs South Africa (D/N)
Time: 18:30 hrs IST
Venue: Edgbaston, Birmingham
Date: June 8
Match: India vs Sri Lanka
Time: 15:00 hrs IST
Venue: Kennington Oval, London
Date: June 9
Match: New Zealand vs Bangladesh
Time: 15:00 hrs IST
Venue: Sophia Gardens, Cardiff
Date: June 10
Match: England vs Australia
Time: 15:00 hrs IST
Venue: Edgbaston, Birmingham
Date: June 11
Match: India vs South Africa
Time: 15:00 hrs IST
Venue: Kennington Oval, London
Date: June 12
Match: Sri Lanka vs Pakistan
Time: 15:00 hrs IST
Venue: Sophia Gardens, Cardiff
Date: June 14
Match: 1st Semi-Final, TBD vs TBD (A1 vs B2)
Time: 15:00 hrs IST
Venue: Sophia Gardens, Cardiff
Date: June 15
Match: 2nd Semi-Final, TBD vs TBD (A2 vs B1)
Time: 15:00 hrs IST
Venue: Edgbaston, Birmingham
Date: June 18
Match: Final, TBD vs TBD (Reserve Day)
Time: 15:00 hrs IST
Venue: Kennington Oval, London