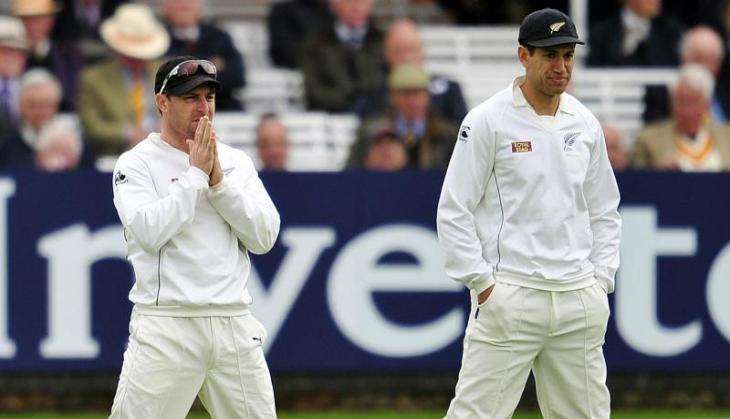 Former New Zealand skipper Brendon McCullum has slammed compatriot Ross Taylor for his `uninspiring leadership` before revealing how the tension and mistrust between the two during the latter's captaincy left the team on the verge of imploding.
McCullum, in his recently published autobiography 'Declared', shed light on Taylor's failure to lead New Zealand and the circumstances that led to the souring of their relationship. The 35-year-old succeeded Taylor in 2012 when Mike Hesson was appointed as the coach. While the team went on to achieve great success under the duo, the move was seen as a nasty 'coup' by fans and the media.
McCullum, who devoted a whole chapter 'The coup that wasn't' on Taylor, informed that the latter was 'suspicious' of Hesson from the start and that they never worked well together. "It seemed to me that, right from the start, Ross was suspicious of Hess's motives. So instead of taking Hess on his merits, Ross seemed already closed to him. I knew there had been a bit of talk behind the scenes after Hesson's appointment, and that some were seeing a conspiracy," McCullum was quoted as saying by Sport24.
McCullum also clarified that he had no role to play in the axing of Taylor as the captain. "It wasn't a very complicated scenario they were pushing: that my mate Stephen Fleming had influenced the selection board to give the coaching job to my other mate Mike Hesson, whose ultimate goal was to replace Ross as captain with me," he wrote in the chapter.
McCullum further went on to say that Taylor did not communicate or share his thoughts during team meetings. "At these meetings, Mike would canvass everyone's thoughts, and then try to hand it back to Ross to synthesise what was out there, tell us the way he wanted to go forward, put his stamp on it," said McCullum.
"All Ross had to say was, 'Thanks lads, that's awesome and this is the direction we're going based on your thoughts. I'm the skipper, this is what we're doing and I need you all to buy into it'. Ross would say nothing. Not a word. What the hell was he thinking, I had no idea," the former right-hander added.
(ANI)