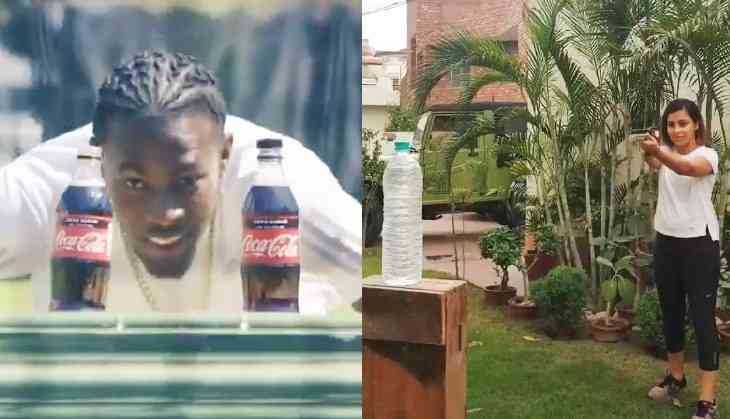 The Bottlecap challenge is the new phenomenon on social media that celebrities just can't ignore. As busy as they may seem, celebrities have sure flock to the challenge. In India too, the challenge has gained popularity as sports minister Kiren Rijiju also posted a video of his own.
Recently, England's World Cup-winning bowler Jofra Archer posted a video where he can be seen opening a bottle cap with a cricket ball. While in India ace shooter Heena Sidhu also posted a video where she shoots the cap with her gun.
Check out this ♻ version of the #bottlecapchallenge for Coca-Cola
When you recycle your empty bottles, remember to keep the cap on!#challengeaccepted #recycle #cricket #ad pic.twitter.com/gxU5FRB2Cq

— Jofra Archer (@JofraArcher) July 19, 2019
Had a great time putting my shooting skills to new use. Didnt know I could open bottles with my pistol. Think differently, do different and #beunlimited@EdelweissFin
Here is my version of the #BottleCapChallenge 😉🤗 pic.twitter.com/uJsWOo3Q45

— Heena SIDHU (@HeenaSidhu10) July 18, 2019
The bottle cap challenge was supposedly started by a Taekwondo instructor and fighter Farabi Davletchin on June 25.
England pacer Jofra Archer recently helped his team win the World Cup 2019. England lifted their maiden World Cup after Jofra Archer bowled the super over which ended in a draw and the home team was awarded the trophy because of their superior boundary rate.
Also read: MS Dhoni has no plans to retire as of now, says close friend