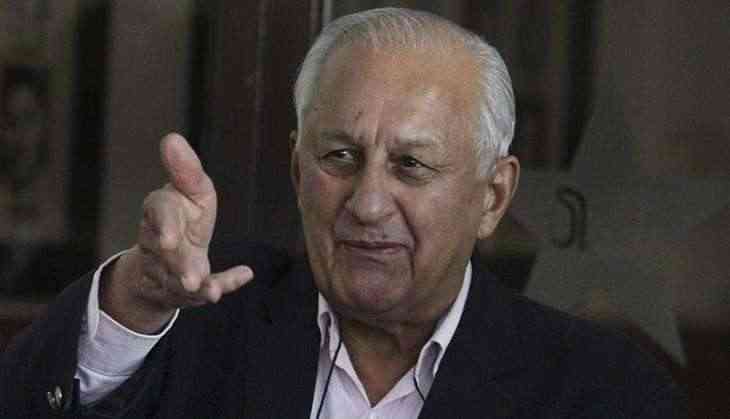 Biggest failure for me is not to restore India-Pak bilateral series: Shaharyar
Outgoing Pakistan Cricket Board (PCB) chairman Shaharyar Khan has revealed that the biggest failure of his three-year tenure at the post was the inability to restore bilateral series between India and Pakistan.
Khan completed his three-year tenure as PCB chief on August 4 but will continue ceremonially till the handing over of charge to the next chairman on August 9.
Speaking exclusively to Dawn, Khan said, "The biggest failure for me is to not restore the bilateral series between Pakistan and India. In my last tenure [2004-2006], I had succeeded in restoring it and we played thrice with our neighbours."
"I did my best this time too and also faced a lot of criticism for it as critics termed it 'begging'. But it was not begging, we were just trying to force the BCCI to fulfill the commitment it had made with us through the MoUs signed with Najam Sethi in 2014," he added.
The 83-year-old further recalled how friendly the cricketers of both the countries were during his last tenure.
"The Indian cricketers were quite happy over visiting Pakistan and players like (Rahul) Dravid, (Javagal) Srinath, (Anil) Kumble and Harbhajhan Singh had made good friends with many Pakistan players," said Khan.
In 2014, both boards signed a Memorandum of Understanding (MoU) which stated that the two arch-rivals will play six bilateral series between 2015-2023.
According to the 2014 agreement, India was scheduled to play six series against Pakistan, four of them were going to be Pakistan's home series.
While the Board of Control for Cricket in India ( BCCI) has repeatedly snubbed Pakistan's request for resumption of ties, the PCB wants the Indian cricket board to honour its commitment under the MoU signed, which is subjected to clearance from the Government of India.
Despite not playing a full-fledged bilateral series against Pakistan since the 2008 terror attacks in Mumbai, the arch-rivals have played each other a number of times in the ICC events, with the most recent coming at the 2016 ICC T20 World Cup.
Although, Pakistan toured India for a short series in December 2012.
-ANI