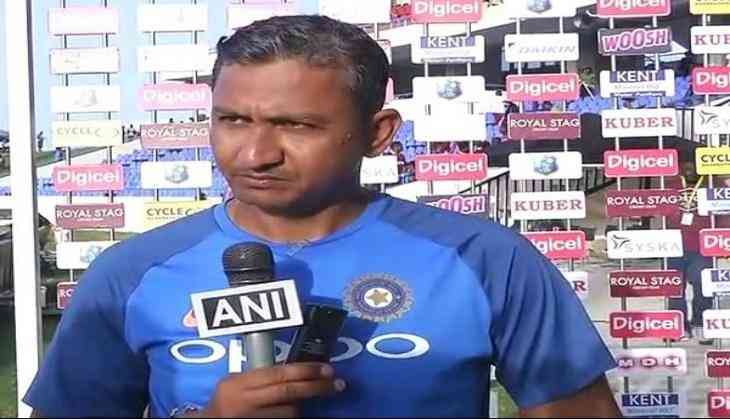 Indian batting coach Sanjay Bangar has admitted that although the wicket at Antigua was difficult for shot making, it was the batting line-up's failure to perform to their potential that led to their 11-run defeat at the hands West Indies in the fourth ODI of the five-match series at the Sir Vivian Richards Stadium on Sunday.
After West Indies eked out 189 for nine wickets off their 50 overs, India failed to counter West Indies' bowling attack and were eventually bundled out for 178 in 49.4 overs.
Conceding that it was an extremely gettable score, Bangar said that it was his batsmen that let the team down, especially wickets in the middle order pushed the team back.
"The wicket was kept getting slower and slower because shot making wasn't really easy. Those have been the nature of wickets we have seen so far. We were playing on the same track just two days ago. So, wicket kept getting slower and slower, but we batted really badly to our potential because it was a gettable score. Just felt that the batsmen let the team down," Bangar told the reporters.
It was skipper Jason Holder whose five-wicket haul sealed the crucial win for West Indies and kept them alive in the series heading into the fifth and final match.
He dismissed Kuldeep Yadav and Mohammed Shami in the space of just four balls to finish with the figures of five for 27, his best-ever ODI figures as India folded for 178.
"Yes, we encountered the situation even in the previous games when we lost couple of wickets in the first ten. But we still managed to get close to 260 on the wicket which was very damp. When we play consecutive games on the same wicket it tends to get slower and slower, shot breaking was a bit difficult. But credit to them that they bowled and executed their plans really well. But, I just felt it was a very gettable score," Bangar said.
For India, Ajinkya Rahane (60 off 91 balls) and former skipper Mahendra Singh Dhoni (54 off 114 balls), were the only players who provided their side with some fight back.
And Bangar admitted that his side was on the course of victory till the time Rahane was on the field.
"The plan was definitely somebody to bat deeper in the innings and that is what Ajinkya did till the time he was given out. Till that time we were on course, but suddenly we lost couple of wickets. Those wickets in the middle order actually pushed us back and run rate was kept on getting higher and higher," he explained.
India, who are still holding a 2-1 lead in the ongoing ODI series following their comprehensive wins of 105 and 93 runs in the second and third match respectively, will play the series-decider clash on July 6 in Sabina Park, Jamaica.
-ANI