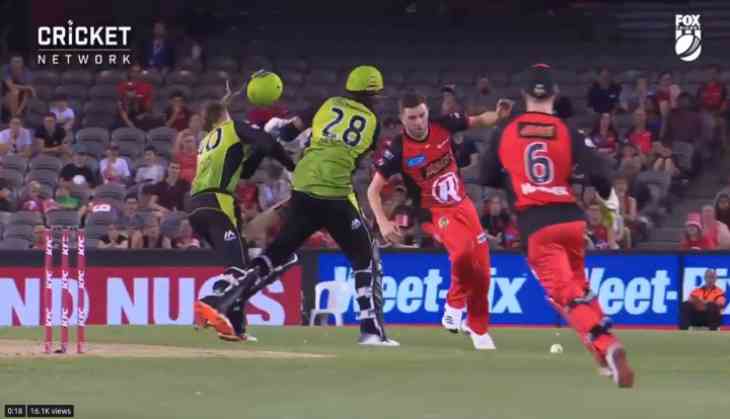 Sydney Thunder's player Jonathan Cook got run-out after colliding into his partner Gurinder Sandhu while running between the wickets against Melbourne Renegades. The collision happened after pacer Harry Gurney moved towards the ball and ended up unsighting the batsmen, who were converging on the same side. A part of Cook's helmet broke and he was left stranded.
The decision to steal a single towards the end of the innings not only cost Cook his wicket but also nearly injured him. The incident took place in the 19th over when Sandhu managed to touch the ball which landed just infront of him. Sandhu straightaway set off for a single and his partner Cook also obliged from the other end.
There is a LOT going on in this bizarre run-out! 😲 #BBL08 pic.twitter.com/8vkEmWsx5l

— cricket.com.au (@cricketcomau) January 30, 2019
Gurney saw that the batsmen were looking to steal a single and he immediately charged towards the ball but in doing so Gurney came in between both the batsmen and blocked their view. Both Sandhu and Cook collided against each other, while Sandhu kept his control, Cook fell on the ground because of impact.
Melbourne Renegades, meanwhile, beat Sydney Thunder for the second time in eight days. Batting first, the Renegades were looking set for an embarrassing defeat after being reduced to 90 for 7. However, a half-century from Cameron Boyce helped them turn the game in their favour.
Renegades made 140 in the first innings while the Sydney Thunder were all out for just 113 runs.