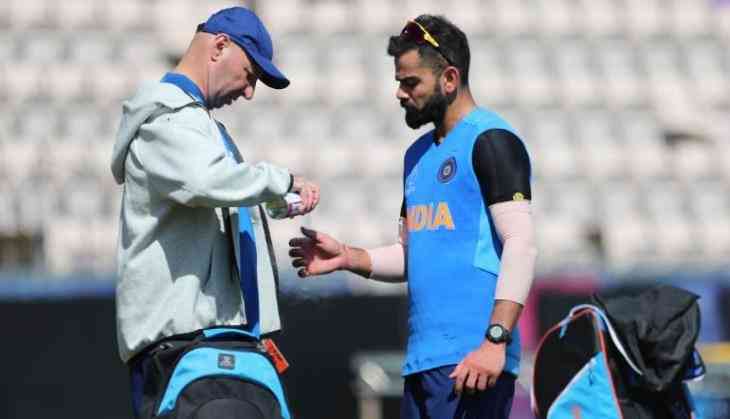 Virat Kohli faces an injury scare ahead of India's first match against South Africa on June 5. Virat Kohli hurt his thumb during a training session in Southampton on Saturday. Virat Kohli was seen with his finger dipped in a glass filled with ice as he walked off at the end of India's training session.
There is no clearance by the BCCI on Virat Kohli's injury but its something that is set to draw a lot of attention ahead of their first World Cup match. Virat Kohli has a lot of time to recover if the injury turns out to be nothing serious.
Virat Kohli is the third player to face the injury scare after Kedar Jadhav and Vijay Shankar. Kedar injured his shoulder while playing in the Indian Premier League. Shankar injured his forearm before the warm-up match against New Zealand.
India lost to New Zealand by six wickets after Virat Kohli-led team was bundled out for just 179 runs on May 25. India won their second warm-up game against Bangladesh by a huge margin of 95 runs as KL Rahul and MS Dhoni both hit fluent centuries.
After South Africa, team India will play Australia and New Zealand before meeting their arch-rival Pakistan on June 16.
Also read: Here's why India is playing so late in World Cup 2019, BCCI dictates ICC