Rohan Raj
| Updated on: 24 August 2015, 15:41 IST
There are a few poignant minutes during every Indian wedding where the family (nowadays just the mother) of the bride is left to their thoughts wondering how life is going to be after the apple of their eyes has moved on. That's exactly how the Sri Lankans and the Kumar Sangakkara fans across the globe must be feeling right now.
Also Read: Here's what Kumar Sangakkara can do after his retirement
The 37-year-old cricket legend had announced that he would retire from international cricket after the 2nd Test between India and Sri Lanka in Colombo. With the cricketing greats in attendance at the P Sara Oval stadium, the left-hander was expected to sign off in style. But the Lankan run-machine missed out in both the innings in his swansong Test appearance.
After missing out in the first innings at a score of 34 runs, Sri Lanka's greatest ever cricketer walked out for one last time amid a great reception at the stadium filled with close friends, family and bigwigs of cricket.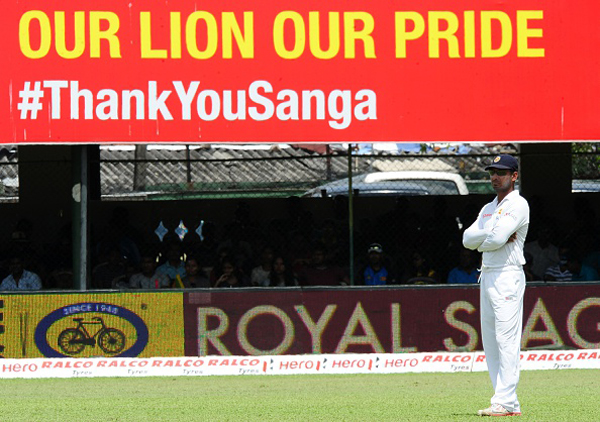 But, Sangakkara's dismissal by Ravichandran Ashwin at a score of just 18 runs in the second innings would have surely disappointed a lot of people including the cricketer himself. The former Sri Lankan captain scored three boundaries in his innings that lasted 18 balls.
Be it the great Brian Lara or batting maestro Sachin Tendulkar, every cricketer hopes for one final flourish to end their career on a high. And as much as his fans, Sangakkara would have also wanted to sign off with a memorable knock in his last outing.
Even if he missed out in his final Test, there's hardly anything left for Sangakkara to achieve.
Here's a look at the his illustrious career in numbers
11
Double Hundreds in Tests
Sangakkara has 11 double centuries in Tests, second only to 12 double centuries by Sir Don Bradman.
In the 131 matches he has played, Sangakkara has been adjudged Man of the Match on 16 occasions.
Sangakkara boasts 38 centuries in 134 matches and is currently placed fourth, only behind Sachin Tendulkar (51), Jacques Kallis (45) and Ricky Ponting (41) in the list of cricketers with most number of centuries in Tests.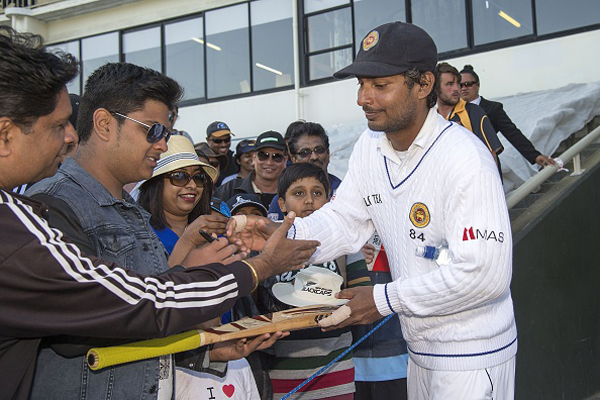 Sangakkara has smashed 51 sixes in the 134 Test matches he has played.
Sangakkara has scored 52 half-centuries in 134 games and is currently placed seventh in the list of cricketers with most number of fifties in Test cricket.
150
Consecutive 150+ Scores
In 2007, Sangakkara became the first player who recorded 150+ scores in four consecutive Test matches.
Sangakkara is the fastest batsman to reach 8,000 runs in Test cricket. He achieved the milestone in just 152 innings.
319
Highest Score in Tests
In 2014 at Chittagong, Sangakkara smashed 319 runs in the first innings against Bangladesh to record his highest score in Test cricket.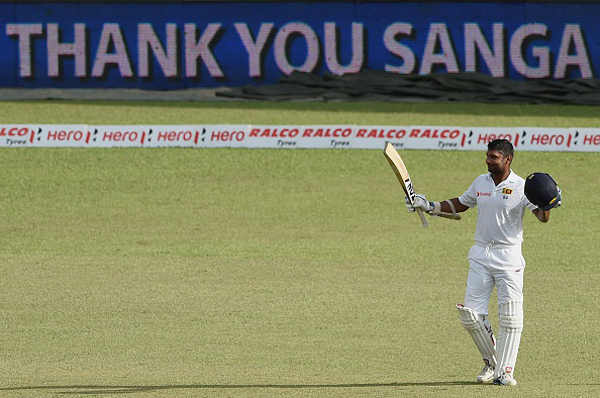 Sangakkara (287) was part of the mammoth 624-run partnership alongside Mahela Jayawardene (374) against South Africa in 2006. It is the highest partnership for any wicket in Test cricket.
Sangakkara scored four hundreds and nine fifties to accumulate 1,483 runs in 2014 - most by a cricketer in that year.
In the 134 Test matches he played, Sangakkara scored 12,400 runs - fifth-highest in the list of top run-scorers in Test cricket.